Home Sound Systems
Powerful Home Audio Experience from Custom Integrators
Your Sound System Installation Experts
Imagine a rich and immersive surround sound experience right in the comfort of your own home. We at Custom Integrators can set up the most exceptional home sound system for you.
You don't have to worry about wiring, sound calibration, or speaker positioning. Our sound engineers have the experience to bring you the best quality sound.
Schedule a Free Estimate
Aside from delivering high-quality sounds, home surround sound systems raise your enjoyment of movies, television, games, and music with movie theater-like audio quality and an immersive experience.
Leave the sound system installation to the professionals at Custom Integrators. Our service includes installing the audio equipment, testing every component, one-year service warranty, and making sure everything is in perfect working order.
Wireless Multi-Room Audio
Introducing top-of-the-line wireless multi-room audio systems.
With our multi-room home sound systems, you can listen to thousands of radio stations from across the world, playback music from your own digital library, or broadcast the audio from your television.
Call the Waco multi-room audio systems experts from Custom Integrators for an evaluation and free estimate.
Home Sound System Installation from Expert Sound Engineers
Ultimate Auditory Experience Right at Home
With a home sound system, you can revel in more home entertainment options. Whether you're fond of entertaining guests at home or simply spending a relaxing movie night, having a good sound system transforms an ordinary time into an ultimate auditory experience.
Stellar Sound System Installation Serving the Lone-Star State
Elite Home Sound System Installation in central Texas for Over 10 Years
We have been providing stellar home audio solutions to Texans for over ten years. Our expert team of installers has a combined century of installation experience.
Let's Build You The Perfect Sound System
Highest Standards
As a local business, we value the trust of our clients and the community. We strive for 100% customer satisfaction. From audio calibration to complete home sound system installation, we are your go-to home audio system installation experts.
Attention to Every Detail
Custom Integrators pays careful attention to every installation detail. We evaluate and produce the perfect custom home stereo system for you
Superior Sound Quality
Our experienced and certified audio installers deliver top-quality service in every installation project. Get superior sound quality – guaranteed from your Custom Integrators sound technicians.
Custom Design for Your Budget
Whether you have a big room or a small space, we can custom design a home audio installation to complement your space and fit your budget.
Home Audio System Installation
Custom Integrators is experienced and prepared to install, service, and maintain residential audio systems.
Our installers expertly position and install speakers to deliver a cleaner, richer, and fuller sound output to every room in your home.
Every Home Audio Project Custom Made and Highest Quality
Every home is different and has its own needs. Our sound engineers consider a multitude of factors, depending on your sound requirements and preferences.
Talk to our home audio experts and learn how we can customize an audio setup for your space.
Free Estimate for Home Sound System Installation
We'll go over all your options to design the perfect sound system setup for you.
Custom Integrators offers free estimates for custom installation.
Home Stereo System Installation
Are you on the hunt for the best home stereo system? Are you overwhelmed by the multitude of sound systems available on the market?
Don't let it get in the way of getting the best sound experience at home.
For the best home stereo system installation, turn to our professional audio installers. Whether it's for your home theater, outdoor space, or whole-home audio, we can design a setup to suit your needs.
Sound Quality, Style, and Functionality
Sound quality, style, and functionality are essential in choosing a good home stereo system. From impeccable treble, balance, and bass controls to unobtrusive, sleek designs, we'll help you choose a stereo system that looks and sounds immaculate.
Our home stereo setup service also includes proper speaker placement. You don't have to worry about your home stereo blocking other furniture. We'll make sure to set it up nicely to blend in with the design of your home.
Want Extra Features?
Do you want to connect the audio system to your home Wi-Fi? Perhaps you want to opt for remotes that can control the speakers from anywhere you want in the house?
Our sound experts will discuss all the available options and features with you.
Seamless Sound Integration and Customization
A leader in wireless home sound system technology, Sonos provides home audio integration that fills your home with rich, clear sound in every room.
With connected audio technologies, you can listen to your favorite podcasts, radio stations, or songs from any device or streaming service no matter where you are in your home.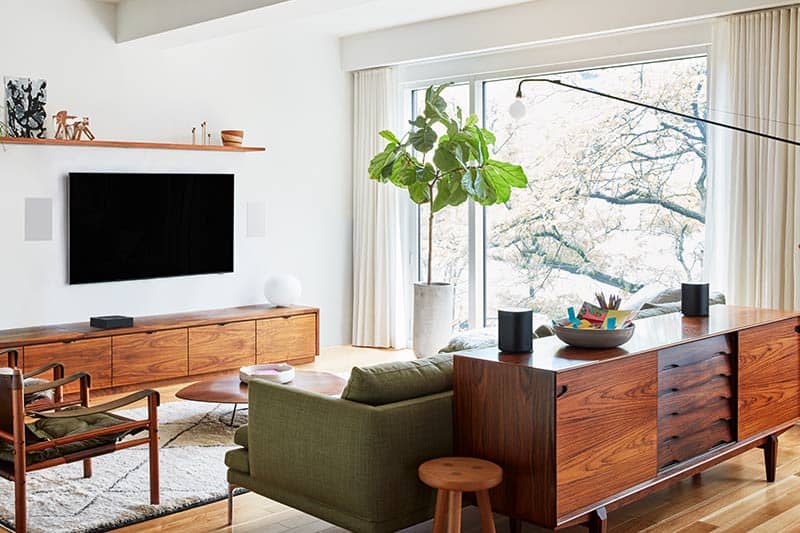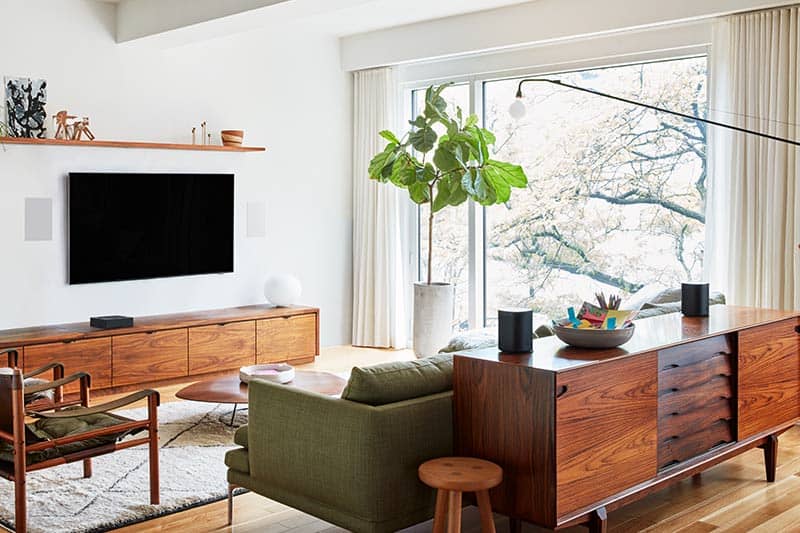 Powerful Multimedia Wireless Audio Sound Systems
The Sonos wireless speaker system lets you integrate multiple speakers easily. You can connect Sonos speakers to stream audio in different areas of your home – all with perfectly in-sync sounds. The Sonos audio setup can even handle a complete surround sound setup.
The Yamaha MusicCast wireless audio system has similar multi-room wireless speaker capabilities, but can also integrate AV receivers, like you might use in surround sound and home theater applications, as part of that whole-house audio system.
The Bowers & Wilkins Formation wireless audio system is the ultimate in high performance, high fidelity wireless home audio, with the only truly high-resolution wireless audio system.
We are proud to partner with Sonos, Yamaha and Bowers & Wilkins, to deliver these innovative wireless home audio integrated systems to you. Learn more about how to connect with the Sonos wireless home sound system, the Yamaha MusicCast sound system, or the Bowers & Wilkins Formation home audio system. We're happy to answer any questions you may have about these systems.
Ready To Get Started?
Get In touch to see how Custom Integrators can build you your dream home sound system!