Elevated Digital Cinema Experience with Expert Home Theater and AV System Design and Installation
We'll bring the excitement of the movies home to you.
Nothing can compete with a great home theater experience. When the lights are dim and you sit back in a comfortable sofa, wholly immersed in a vivid 4K TV display and rich surround sound – the feeling is unbeatable.
Imagine a room in your home fully optimized and powered to give you immersive entertainment experiences. At Custom Integrators, our home theater specialists can make it happen for you.
Whether it's a Netflix binge or a Superbowl party, enjoy high-definition audio and video with home theater and AV system design packages from Custom Integrators.
There's not an electronic device that our installers don't know inside and out. If you want your TV, cable box, surround sound system, video game consoles, selectors and splitters, and so on working seamlessly together with a convenient and functional universal remote system, give us a call.
Getting Started
At Custom Integrators, our team will work with you to create your ideal home entertainment space. We have the experts that can handle home theater projects at any size, scale, and budget.
We'll give you personal guidance through each and every decision of the project. This includes an in-depth consultation from planning, design, installation, completion, maintenance care, and follow-up service.
State-of-the-Art Home Theater Systems
High-definition picture quality. Crisp, clear sounds. Effortless integration of all components. Comfortable and luxurious seating.
Are you looking to build a top-of-the-line home theater? Do you need help configuring and integrating all your electronic devices to work together? Do you want to get a system that will give you the most bang for your buck?
Comfort, convenience, and fun are essential to make a remarkable home theater experience. Let us design, install, connect, and integrate all the components you need to make a powerful and state-of-the-art home theater systems for you.
We know how to meet those needs to make sure you, your family, and your guests will have an incredible and memorable time in your home theater room. We can design and install an AV and home theater that will meet your needs and exponentially add value to your home.
Prompt and Reliable Home Theater Professionals
A stunning home theater brought to you by our team of in-house home theater design and installation experts. Our certified and experienced team can transform your home movie viewing and entertainment into an astonishing experience.
At Custom Integrators, we're committed to delivering excellence. When it comes to a project, we don't cut corners. When our experts see how your home theater experience could be significantly improved, we make professional recommendations.
We value the lasting relationships with our clients, and we work hard to gain our community's trust. This shows through our 10+ years as a trusted local business.
Precise Calibration
Our home theater installation team will run all calibration systems check, perform all sound tuning programs, and seamlessly integrate proper control of all aspects of your new home theater system.
Continuity of Services
After completing your install, we'll take the time to teach you everything about your new system, demonstrate proper access and use, and answer any questions you may have.
We offer a 1-year service warranty on all installations. If you have any other concerns or questions about the system, our friendly and helpful team is available to answer them for you.
The Professional Advantage
When you have the Custom Integrators team handle your install, you're guaranteed to get the first-class service. We wouldn't have lasted in this business for over a decade if we haven't been providing the best to our clients.
Have your own premier home theater systems. Never before has the concept of an ultramodern and high-end home theater been so real and achievable.
We have worked on different home cinema design and installation projects for every budget. Reach out to us for any questions about home theater and AV system design and installation.
Sony Home Theater System Dealers
We're one of Central Texas' certified Sony Home Theater Systems dealers.
Sony is one of the leading and trusted brands in home theater systems. 
With Sony home theater systems, get impeccable video quality and rich surround sound experience – all from a simple touch of a button from your mobile device.
Want to work with a Sony Home Theater System certified dealer?
Schedule a free estimate and consultation with our expert installers.
We can't wait to get started on your project.
Home Theater and AV System Design
Complete Home Theater Design Package
Our premium level home theater systems include a complete design package. From acoustic room treatment, planning an effective layout of the space, AV system design, 3D renderings, installation and programming, surround sound systems, home theater seating, and the calibration of all audio-visual equipment.
We go the extra mile to ensure that your home theater design is installed for optimum pleasure, fully maximizing the quality of the room.
Highest Levels of Performance Across the Board
We know how to get the most out of a home theater room, making sure you get optimum home entertainment experience.
Let's get started on your home theater project today.
Full Home Theater Entertainment System Installation Services
Are you building a new home and looking to include a home theater installation? Or are you renovating your house to make way for customized home theater systems installation to fit your vision?
Whether you're building the room from the ground up or updating an existing room, we'll make your home theater vision a reality.
Home entertainment systems installations are one of our specialties. Since 2009, we have completed numerous home theater entertainment system projects throughout Central Texas.
Our professional home theater design and installation services include:
Video installation (and wall mounting) of projectors or flat-panel HDTVs) for high-definition picture quality.
Expert installation and calibration of audio systems.
Lighting control.
Automated shades and window treatments.
Climate control.
Custom home theater seating.
Choose a Customs Integrator home entertainment systems installation. Experience larger than life picture and sound quality in the comfort of your own home.
Surround Sound Installation
When you want surround sound installation done right, turn to our experienced and certified surround sound installers.
We'll make the quest for impeccable sound easy for you.
With Custom Integrators, get a stunning home theater with superb surround sound on a realistic and modest budget. We have the tools, experience, and skills to do a neat, orderly, and functional surround sound installation.
To give you the best surround sound installation, we'll carefully evaluate your space and discuss what level of functionality you're looking for. Our surround sound installer can take care of all the messy cables, remotes, and wiring – so you don't have to. We can also integrate all your home theater controls into one convenient and accessible interface using a universal remote.
One fantastic thing about surround sound systems is they are fully customizable. If you're not sure where to start, our sound experts can guide you in the right direction.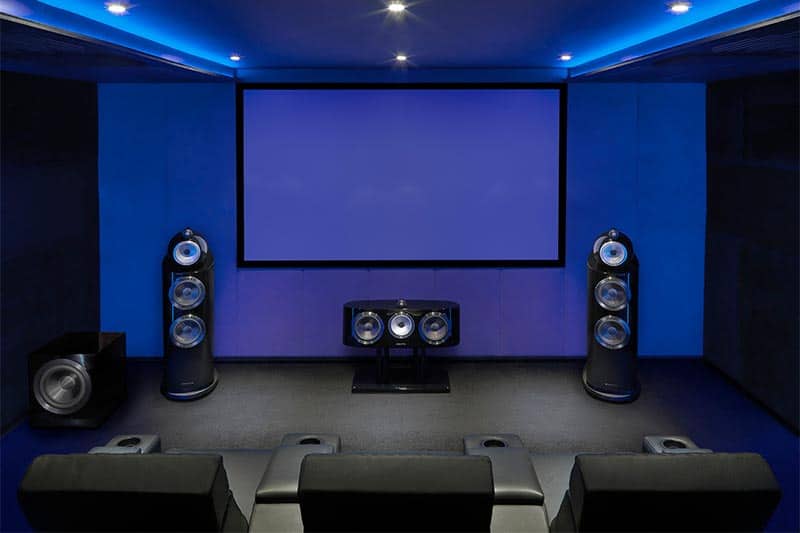 Home Theater Setup Services
Seamless Set Up by Professional Home Theater Installers
Every Custom Integrators home theater setup project includes all the components you need for the best experience.
From your preferred screen to surround sound system, universal remote control, all the needed cable and wiring. Our experts know which components are compatible to work with each other and how to install them expertly.
We use only the highest caliber products on all of our home theater setup projects. To ensure that you are getting the best home entertainment setup that fits your unique and personal needs, we have the widest selection of top-performing systems and components.
Audio and Video (AV) Installation
Picking the right video display and the correct audio system pairing makes a world of difference with a home theater system.
At Custom Integrators, our audio video installation experts are trained in the latest AV practices and procedures to give you the best options possible.
Aside from ensuring the caliber of the system, an audio video installation project must be performed by qualified installers. With extensive technical factors involved in AV installs, only work with a reliable, highly trained, and experienced crew.
Our in-house installers have put in thousands and thousands of hours of professional experience working on numerous AV installs since we started in 2009.  
Our audio installations include:
Pre-installation walk-through
Comprehensive consultation
Indoor or outdoor audio installation
Speakers to audio receiver connectivity
Proper balance and calibration
Clean up after installation
Helpful demo and orientation
Our video installations include:
Pre-installation walk-through and consultation
Equipment testing and inspection
Projector installation/TV mounting and installation
Concealing of cables and wires
Connectivity to AV equipment and gaming consoles
Helpful demo and orientation
Custom Audio Video Installation
We can create an installation package tailor-made just for you. If you're not sure how to begin, our helpful team will be happy to help.
When we finish a project, we guarantee that it's done right. We also offer a one-year warranty on all installations to make sure you're getting the most out of your audio video installation.
Home Theater Seating and Furniture
Comfort. Quality. Craftsmanship.
VIP Seating Reserved for You.
We offer luxury home theater seating options to complete your home entertainment and viewing experience fully. At Customs Integrator, we'll take care of the design, creation, and installation of your entire home entertainment room interior.
Proper layout and design of home theater furniture are essential to ensure you're fully optimizing your home media room. From the right type of audio-friendly materials to the proper viewing distance and angle, our expert installers will take care of all your home theater seating and furniture needs.
Choose from our vast and affordable selections of home theater furniture, home theater chairs, leather home theater seating, and more. We have talented designers in our team that can help you make the right decisions.
Do You Need Sonos Wireless Surround Sound Integration?
Customs Integrators works with Sonos, Yamaha, and Bowers & Wilkins wireless speakers.
If you have a Sonos home sound system or you're planning to get one, our team can perfectly integrate it into with your home theater system.
We guarantee professional integration and configuration to make sure you're Sonos speakers work seamlessly with your home theater setup. From finding a good spot for the speakers to hooking them up to your home internet network, our installers are highly trained and certified to conduct a Sonos home theater integration service.
Whether you want the sound from the TV in your theater room to be piped through across the house or you want to stream music, we can come up with a solution to your needs.