Enjoy Hi-Fi Sounds Anywhere at Home
Imagine rich, dynamic audio – sounding the best it's ever been – played at the right level you want in any area or room you choose inside your home or in the patio.
Skillful design and installation of a whole house audio system. Expert guidance from trusted audio engineers.
At Custom Integrators, we'll help you pick the right whole house speaker system for your home.
With our whole house audio system installation services, enjoy crystal-clear audio throughout your house or outside on the patio. Control everything from one convenient, easy-to-use platform and interface.
Have a unique or complex whole house audio system design in mind? We're up to the task!
Strategic speaker placement. Expert wiring throughout the home. Customized in-celling/in-wall speaker installation. Smooth system integration.
We are experts and experienced in custom-designing whole house audio systems to fit specific needs.
Let's get started on your dream project today.
State-of-the-Art Whole House Audio Systems
Create the perfect audio oasis at home.
At Custom Integrators, we carry the best audio systems and products from the most trusted and elite whole house audio system manufacturers. Choose from our elite selection of audio systems at competitive prices.
Whether you are an audio enthusiast or a casual listener, our expert sound system installers go above and beyond to create fantastic ways of enjoying sound in your home.
No More Audio Issues. We're Here to Help
If you don't know where to start, you don't have to worry. Our experienced sound engineers will keep you updated with the current and latest whole-house audio technologies.
We'll evaluate your space, take note of your preferences, and offer the best whole audio systems solutions to meet your requirements.
We'll help you choose the right audio design and solution for your home.
Quality Workmanship. Custom Sound System Design. Seamless Integration.
As audio visual professionals, we make sure to provide a custom multi-room sound system design that seamlessly integrate with your home décor.
From installing in-wall or in-ceiling speakers for indoor or outdoor spaces to integrating state-of-the-art audio and video distribution system, we deliver first-rate services that always exceed expectations.
Our goal is to provide quality and trusted workmanship. With over a decade of experience in the industry, we have earned the trust of our clients and the community.
Fantastic Sound Distribution in the Entire Home
We'll take your listening experience at home to a whole new level.
You don't have to own a multi-million dollar home to fill it with amazing audio whenever and wherever you want.
At Custom Integrators, we can tailor a whole house audio system that can seamlessly distribute clear sounds throughout your home with simple controls and integration.
Wow your friends, family, and guests with a state-of-the-art multi-room sound distribution solution. We can also integrate lighting systems, security systems, and other home automation systems – all within your preferences and budget.
Enjoy your favorite sounds in every room. Our expert audio installers can seamlessly distribute rich and bold sounds throughout your home.
A whole house audio system is no longer just a dream – thanks to today's sound system technology. Choose from our whole audio systems and listen to music or watch shows wherever you are in the house.
Listen to your favorite podcast in the kitchen, jazz in the home office, country or blues music on the patio, while the kids play video games or watch a movie in the media room.
We'll show you how you can do have this in your own home – at a cost that fits your budget.
Our audio technicians skillfully install and wire in-wall and in-ceiling speakers throughout the home, outside on the patio, or by the pool.
Whole House Speaker System
For the best whole house speaker system, look no further. Custom Integrators provides speaker systems for homeowners. In almost any style home, we'll equip it with a reliable whole house speaker system that is easy to use.
Our customer service staff and audio installers work proactively to provide homeowners with the clearest, most Hi-Fi whole house audio.
We'll help you pick the best house speaker system to suit your needs. We'll also take care of all the installation and wiring – you don't have to worry about anything else.
Let's get started on your whole house speaker system project today.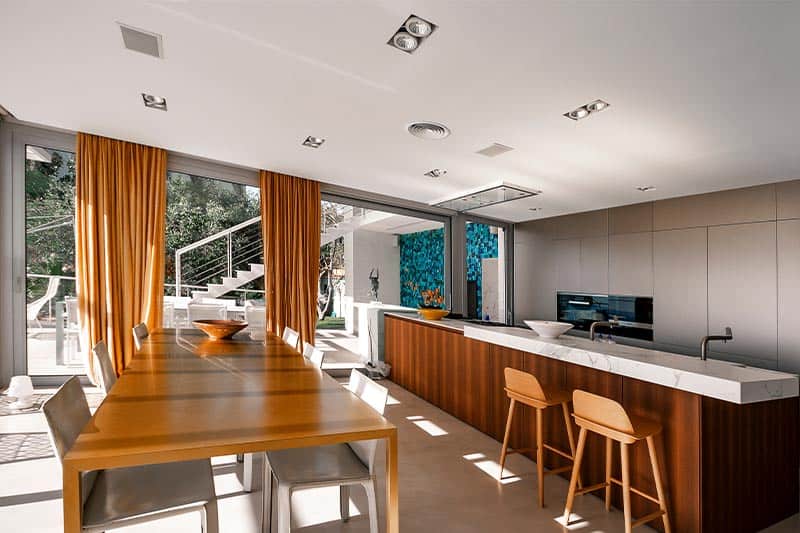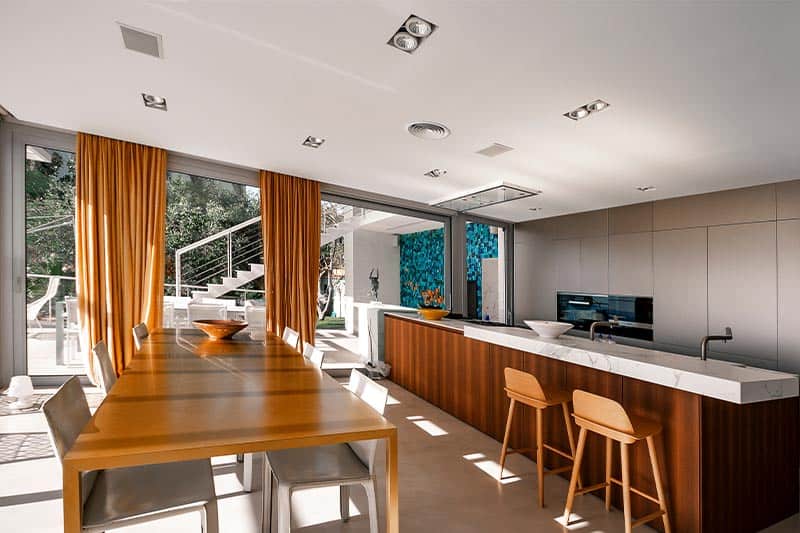 Whole House Sound System Design
Envision Your Multi-Room Sound System Design. We'll Make It Happen.
Professional-grade audio enjoyment for the whole house with our whole house sound system design and installation services.
We design and install whole-house or multi-room sound system solutions. We can fill all rooms in the house with high-quality audio. Perfect volume, crisp sounds – throughout the home.
Customized scalability. User-friendly interfaces. Easy to operate. Whether you want to play Spotify at your backyard pool party, a podcast in the kitchen, or the same audio everywhere in the house, we'll have you enjoying crystal-clear audio anywhere in the home.
Free in-home consultation.
Whole House Audio Distribution System
User-friendly audio interface. Ultimate audio enjoyment at home.
Let full, rich sounds fill your entire home with our professional whole house audio distribution system services.
Don't worry about running wires around the house. Don't trouble yourself with setting up and integrating complex systems. Our team of certified audio engineers will take care of it for you.
Whatever streaming services you use, we have the expertise and tools to integrate them into one universal platform and easy-to-use interface for ultimate enjoyment.
Whether you want a sleek and sophisticated invisible speaker setup or flush mount in-ceiling or in-wall speakers, our experienced audio distribution system specialists can make it happen for you.
Speaker Types:
Invisible speakers
In-ceiling speakers
In-wall speakers
Bookshelf speakers
Soundbars
Home theater systems
Outdoor speakers
Subwoofers, amps, and receivers
Audio Sources:
Streaming services
Music servers
TV/Video
Turntables
Radio
And more
Whole House 4K and HD Video Distribution Systems
Redefine Your Home Entertainment Experience with Custom HD Video Distribution Systems.
4K is the ultimate standard for high-definition video quality. Let Custom Integrators redefine your home viewing entertainment with our whole house video distribution systems.
Deep, rich colors. Dynamic luminosity. Fantastic visuals. Don't miss out on an immersive 4K and HD video viewing experience.
Uninterrupted HD Audio and Video Quality Throughout the Home
With HD video distribution systems, you can have a different number of sources to show HD video simultaneously and independently in different areas within your house – without affecting the video quality.
Gaming consoles, HD DVD players, Apple TV, media players, satellite receivers, or your own movie library. We have the latest in 4K high definition distribution solutions for first-rate residential installations in need of whole house video distribution system.
We'll Meet Your Whole House Audio Needs
Whether you want to distribute high-definition video to two, four, eight, or sixteen areas/zones in your home – whatever your needs are, we have the most advanced technology and expertise in the distribution of HD video and audio content.
Our expert installers will identify the number of sources you have, what type they are, the number of displays, distances to displays, and more — giving you the best home video distribution solution.
Expert Installation. Strategic Speaker Installation. Custom Whole House Audio Design.
Not all homes have the same multi-room sound system requirements. Our expert installers know how to strategically and neatly install speakers throughout your home in the desired areas.
Never compromise on an AV system that may inhibit your enjoyment of the latest 4K HD content available from multiple streaming media or TV broadcast services.
Expert Consultation from Experienced Audio Engineers
Custom Integrators is here to help offer the right home video distribution solution for your next home project.
Our highly trained and certified specialists will work to uncover the features and details that make the difference between an okay project and a fantastic project.
We'll be more than happy to discuss the many possibilities and benefits of a multi-room audio system for your home.
Let us help you get started today.
Sonos System Whole House Audio System Integration
Dynamic Whole House Audio System from Sonos
Sonos, a leader in wireless speaker systems, uses the same revolutionary wireless network technology to create a dynamic whole house audio system.
Keep components out of sight. Create distinct music zones throughout your home – even out in the patio or by the pool. Add clear audio to different rooms of the house without unsightly cords and wires with the Sonos system.
From soundbars to wireless speakers, Bluetooth speakers to amplifiers, Sonos' line of highly-developed and long-established multi-room audio systems and products have the winning combination of sound quality, functionality, and usability.
At Custom Integrators, we are proud to partner with Sonos to bring the revolutionary whole house audio system integration to your home.