These past couple of years, a custom home theater installation has become more of a necessity than a luxury. All those films, Netflix binges, and other video entertainment make you consider how to get the best entertainment experience at home. Additionally, numerous theaters have been forced to shut down or operate at reduced capacities, so it makes complete sense to take the cinema experience home.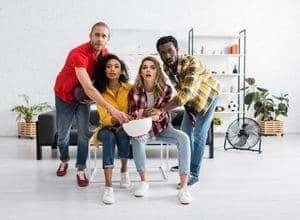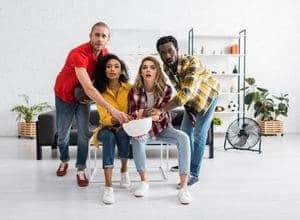 What to Consider in a Custom Home Theater Installation
But an excellent custom home theater installation for your home is more than a big screen and a sound system. Many details go into planning, designing, and installing a home theater. Here are some of them:
The Room
Depending on your preferences and your house, your home theater may be in its own space or maybe part of a living area. Regardless of where you put it, you have to consider both light and sound control for your home theater room. A typical custom home theater installation will need a projector for the largest, most cinematic picture.
You need to ensure that you can darken the room appropriately for the best image quality. That suggests controlling ambient light from any windows through features such as motorized shading. You may require acoustic treatment for both limiting sounds escaping to adjacent rooms and keeping sound from other spaces out. And it would be best if you had precise control of the lighting in the room for dimming and allowing people to see in the dark for getting up during a movie.
Seating Configurations
Seating is one of those things that numerous home theater designers consider first. How many seats would your theater have, what types, and how far will they be from the screen? These aspects would drive many details for your theater's visuals and sound. The type of seating, such as standard recliners with tiers or more casual sofas, would also determine how the home theater is designed.

AV Equipment
It's natural to gravitate to home theater products and equipment first, but this should be a selection based on how you would use your home theater. As we stated above, seating will be a key driver. Will your theater often be used on Sundays for watching the game? Then you might want a custom home theater installation with multiple large flat-panel TVs for game days to keep up with all the NFL action. For movies, you could have a hidden screen drop down from the ceiling and a projector that does the same.
For sound, you have numerous audio device choices for your new home theater system. You can use architectural speakers, freestanding speakers, or a combination. Also, the front stage can have freestanding speakers behind the large screen in larger home theaters. Side surround, rear, and overhead speakers are often architectural for a sleek appearance. A high-end custom soundbar for smaller home theater/media rooms can also be an option. Most of these choices would depend on room layout, size, seating, preferred system type, and other details.
Control and Acoustics
Great entertainment should be simple. Avoid getting too many remotes and disparate systems to control the AV equipment, shading, lights, and other functions. A smart home automation system can make your theater a breeze to operate. One button could switch the tv to football or Netflix, dim the lights to the level you wish for each, lower shades if needed, and set your room temperature to your chosen setting for a roomful of guests or a romantic movie night.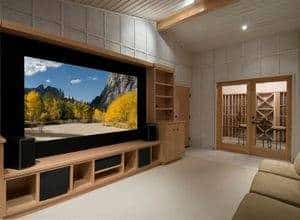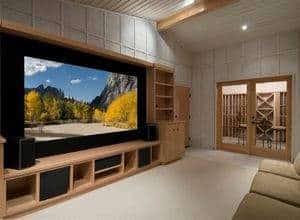 The Installation
Once the planning phase is finished, it's time to begin the custom home theater installation. The first step is putting the wiring infrastructure. We guarantee you have the necessary wiring to connect all of the equipment and that it's placed in the proper location to fit your predetermined layout. If you're connecting your theater to the home AV system, we use specific cabling and matrix switches to bring the signal to you uninterrupted.
Benefits of Professional Custom Home Theater Installation
Ongoing Maintenance
If your home theater ever experiences any issues down the line, you have a professional that is already familiar with the system and will be able to get it back online fast, certainly much faster than someone who is checking your system for the first time. If you choose to upgrade your equipment in the future, you could work with a pro to make sure that you purchase equipment compatible with your current system yet worth upgrading.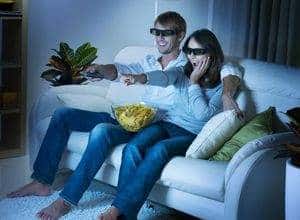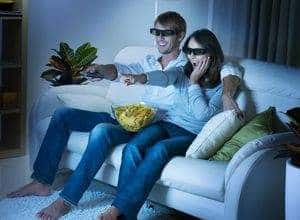 Expertise
A professional custom home theater installation specialist will have many years of experience and know your system inside and out. If any problems arise in the installation process, they will know how to fix them quickly and easily. They will also be able to suggest what equipment would best suit your project, as there is no one-size-fits-all regarding custom home theater installation. Finally, because a professional knows what they are doing, there is less chance that your system will break down in the future because they set it up correctly the first time.
Save Time
Let's face it; a professional will get the job done a lot faster than you will. Don't spend hours pouring over instruction manuals and watching YouTube videos to try and figure out how to put everything together. Trust a person who knows what they are doing and can do it without the help of external resources. It will make your life easier and a lot less stressful. After all, a home theater is meant to be a place of relaxation, not a place of stress.
Customization Options
When you install your home theater, you are stuck with cookie-cutter options. Out-of-the-box solutions are very limited in what they can do, so contact a professional custom home theater installation expert if you genuinely want a luxurious theater that meets your needs. A professional can offer you customized solutions that will fit your individual needs and build you a home theater that you can call your own. If you invest in a home entertainment system, don't settle for anything less than your ideal.
Design
An excellent home theater setup starts with a custom design. Your room's size, shape, and location play a huge role in determining the best system design for your space. Would a large high-contrast screen TV or projector be the best option? How many speakers do you require in your surround-sound system? What lighting would be best to provide illumination without creating glare or altering image quality? How should the seats be arranged to give everyone the right viewing angle?
These questions are barely the tip of the iceberg for theater design. At Custom Integrators, we understand every aspect of design and operation to ensure that you get exactly what you want from your custom theater.
Calibration and Acoustic Assistance
Setting up a theater room, plugging in the right AV equipment, and letting it fly may give you an OK or good movie-watching experience — but an unsurpassed, 100% immersive experience requires professional calibration and treatment.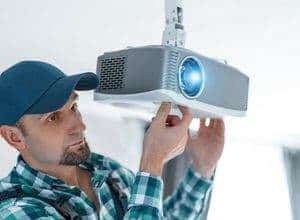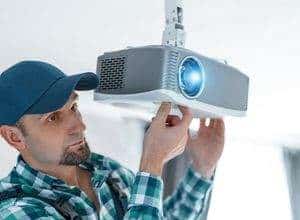 First, your room significantly affects your system's sound quality. We'll install acoustic treatments to balance the sound and limit reflections that cause distortion and unintelligible audio. Second, your AV equipment isn't set up for optimal performance right out of the box. We'll perform a professional calibration to balance your sound system and adjust the frequencies and equalization to deliver smooth, even audio. We'll also calibrate your video display for peak brightness, color, and contrast settings.
Integrated Control
The best home theater experience is that you can control with ease and simplicity. When you work with installation experts like us at Custom Integrators, we'll integrate every aspect of your theater — audio/video, lighting, room temperature, shades — with automation so that you can control the room using a single, convenient smart device.
FAQ
What is the cost of a custom home theater installation?
Whatever you desire in a home theater boils down to how much you are willing to spend.
Home Theater Cost Factors:
What you already have that you intend to use.
What you need or want to buy to add to what you already have.
What do you need or want if you are starting from scratch
Should you get a custom home theater installation?
The ultimate home theater installation is a big task that might require extensive wiring, proper screen and speaker placement, and integration of different media types into a single system. Because of the precision involved, we recommend you hire a professional integrator to help you build your home theater.