How do you choose the best whole house sound system? It can be challenging to narrow down your options, but it's a fun challenge because many amazing brands and options are to choose from. It could also be overwhelming and a source of headache if you don't have the right kind of help to determine and install the most suitable elements of a whole house sound system for your home. And that's just choosing–the installation work is a whole new level of difficulty.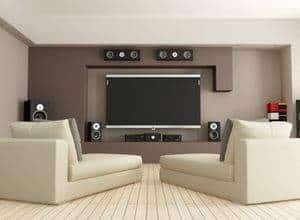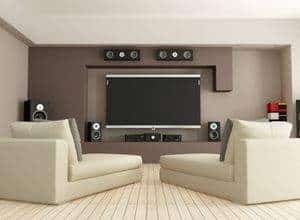 Fret not, though; we at Custom Integrators can efficiently install your sound system, so you don't have to do anything but enjoy the sound of music (or movies) in your home.
Here are some of the considerations we can guide you with:
Consider Room Size and Setup
The first step in setting up a whole house sound system is to take a good look at the room your TV is in. Whether a living room, basement, or rec room, your home theatre's size will impact the type of surround sound system, you'll choose. If your room is fairly small, you may only need a few speakers and a single subwoofer.
You may also opt for wall-mounted speakers with a small space instead of larger tower speakers. In a larger room, you can expand your sound system. You can opt for a more powerful system with bigger speakers to offer bigger sound.
If you feel your whole house sound system is somewhere in the middle of big and small, a good way to choose the best system is to decide based on the size of your TV. If your TV is 65″ or larger, you will want to opt for more power and extra speakers. If your TV is smaller and has a small room to fill with sound, you can choose smaller speakers and less power.
Movies or Music? Which is Your Favorite?
When you add speakers, a subwoofer, and a receiver to set up a whole house sound system, everything you watch on your TV will instantly become more immersive. The benefits don't end with your TV either; one of the best parts of adding speakers to your room is how your music will sound better.
When choosing your whole house sound system, you should remember that music sound requirements are quite different from movie soundtracks. Movie soundtracks cover all the audio types, including dialogue, music, and sound effects.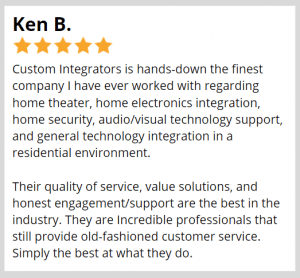 Bass tracks are deep and can have an immersive booming effect, while voice tracks are less penetrating and come mainly from the center speaker channel. Sound effects will feel like they are coming from all around you as they are dispersed across your speakers for maximum effect. Whole house sound system receivers, also known as A/V receivers, have multiple channels to distribute audio to the correct speakers for best results.
If you're mostly about music…
On the other hand, music is essentially distributed over two channels. That's why stereo receivers are two-channel systems. Your whole house sound system receiver will perform the same function by using two channels to distribute your favorite music to your speakers, with your front, left, and right speakers being the most important. Instead of adding a huge hit of just bass, the accompanying subwoofer will add clarity and depth to your playlists.
If you are setting up your whole house sound system with the goal of listening to music, you'll want to ensure your two main speakers are of the highest quality possible.
If you're mainly about movies …
If you know you'll be mainly using your home theatre for watching movies, you're going to want to ensure the subwoofer you choose can achieve those deep-bass effects. Also, select a great center channel speaker who can distribute dialogue crisply and matches your other speakers perfectly.
whole house sound system receivers give you the best of both worlds
You're probably going to use your whole house sound system for both movies and music, so the simplest solution is to get a well-balanced, high-quality system that best fits your budget. Some subwoofers make it easy to choose because they have both a music mode and a movie mode, and they optimize the bass output based on what application you've selected.
It would be best to keep in mind that today's receivers will automatically compensate for the different equalization curves for music and movies. When the appropriate surround mode is selected, they will optimize the sound accordingly.
How Many Channels Do You Need?
The next step in choosing your whole house sound system components is deciding how many channels you'll need. The number of channels you choose depends on how many speakers you would like to connect with. That choice may be determined by how large your room is.
Receiver-based whole house sound systems are available in a variety of channels. The most common channels are 5.1, 7.1, and 9.1. The first number is the number of speakers in the system, and the second is the number of subwoofers.
What's the Best Placement for Surround Sound Speakers?
Most sound systems for small to mid-size rooms have 5.1 channels, five speakers, and a subwoofer. Larger rooms do best with 7.1 or 9.1 or 9.2 systems, with nine speakers and two subwoofers. To place nine speakers around your room, you'll usually place 5 in the front around the TV with 2 to the left, 2 to the right, and 1 in the center.
The remaining speakers will be placed two on the side of the room and two at the room's rear.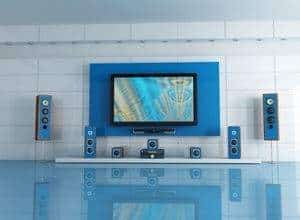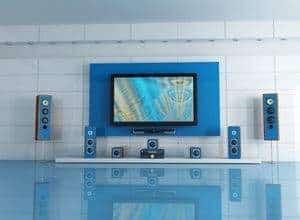 Taking this up a notch is the Dolby Atmos surround system, which may be 5.1.2, 6.1, 7.1.4, or 9.1.4. The extra digit represents ceiling speakers, so a 7.1.4 Dolby atmos system has seven floor-level speakers, one subwoofer, and four ceiling speakers.
A Dolby Atmos system will give you the most immersive sound experience available. You can find Dolby Atmos technology in whole house sound system, surround sound systems, and individual speakers. The sound will feel like it's coming at you from every direction.
The basic idea of whole house sound systems is that the more speakers you have, the better your sound quality. The better the sound quality, the more you'll enjoy movies and music at home.
Wireless vs. Wired
The decision to have cords and cables vs. a completely wire-free experience is usually an easy one. Your main issue will be whether or not it's difficult to place or hide the cables connected to your sound system.
Some people opt for wireless speaker systems because the installation is very simple and clean.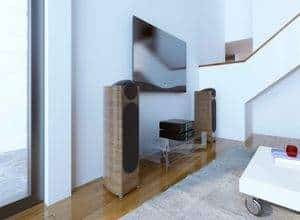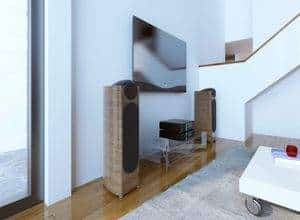 Nonetheless, remember that a speaker is "wireless" when it doesn't need wires to connect to your receiver; they still require a power plug as most are not battery-powered. The benefit is that you won't have to connect several feet of cord to the receiver, so it gives you more flexibility. Another thing to remember when choosing wireless speakers is that only a few will work well in a balanced "surround sound" application. Sonos and Bose are a few brands that produce wireless speaker systems.
There are some advantages of a wired speaker system too. A wired speaker system usually has better sound quality because it's connected directly to the receiver, and it's not limited to bandwidth. You'll also have a wider variety of speakers to choose from, and you're more likely to find powerful and clear-sounding speakers that suit your taste.
Number and Type of Connections
How many HDMI-connected devices will you run? Many receivers have multiple HDMI, optical, and other connections, so you can connect everything from your TV to gaming consoles, streaming boxes, or cable boxes. You can use your receiver to switch between the various applications easily, so be sure to choose one that can handle all of your devices. You can choose a receiver with four up to 10 HDMI connections.
Smart Features
If you rely on your voice assistant to control devices in your smart home, you'll want to take a look at receivers with voice control built-in. You can find receivers with Google Assistant, Alexa, and Siri compatibility.
Speakers
Your speakers are one of the most crucial components of the whole house sound system. You can choose a few different types to make up your whole house sound system, including bookshelf speakers, tower speakers, center channel speakers, in-wall and ceiling speakers, and subwoofers.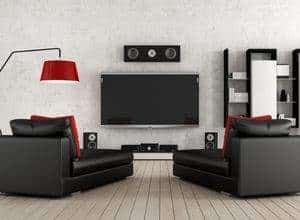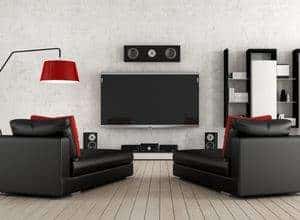 When choosing speakers, the most important factor is to make sure they match the receiver's power output you choose. Sound quality is also a big factor, and if you can't head into a store to listen before you buy, you'll want to take a good look at the overall ratings of each and decide on different features.
Additional Features for Your Whole House Sound System
There are a few other whole house sound system features you may find useful. Some speakers will have automatic speaker setting calibration, so it's easy to set up and perfect the sound of your speakers. You can also choose a receiver and speakers with the multi-room capability to use the A/V receiver to transmit sound to another room in your house.
FAQ
How much does a whole house sound system cost?
The price of a whole house sound system depends on many factors, like the size of your home, the kind of whole house sound system you want, and the equipment you already have installed in your house.
How to install whole house sound system?
When you install a whole house sound system, there could be a lot of work to be done. Skip the hassle when you have us at Custom Integrators to install your system for you. You would never have to deal with messy cables and wirings. In fact, you would not even need to worry about touching the sound system at all. We got you!