Thanks to today's home theater system technologies, having an immersive viewing and listening experience at home is now possible more than ever. These innovations introduce various home theater ideas you can get inspired by and adapt to your own space.
No longer a luxury, you can have a custom home theater system complete with your home theater ideas and personalized with features and functions that you want.
Need Expert Home Theater Design and Installation Advice?
If you need more information about professional home theater solutions, our expert team is here to help.
Fill in your name, email address, and phone number, and we'll respond quickly.
This makes movie nights at home more exciting and delightful. You can also look forward to entertaining your friends and family when they come over.
With your home theater, no more sitting in traffic, finding a parking space, or waiting in line at the movies when you want to enjoy that movie theater experience.
Explore Different Home Theater Ideas That Will Work for You!
Whether you plan to transform a spare room, your living room, or a basement into a magnificent media room, there are several helpful tips available to have your dream home theater.
Here are some steps you can follow to create an ideal entertainment experience right from the comfort of your home.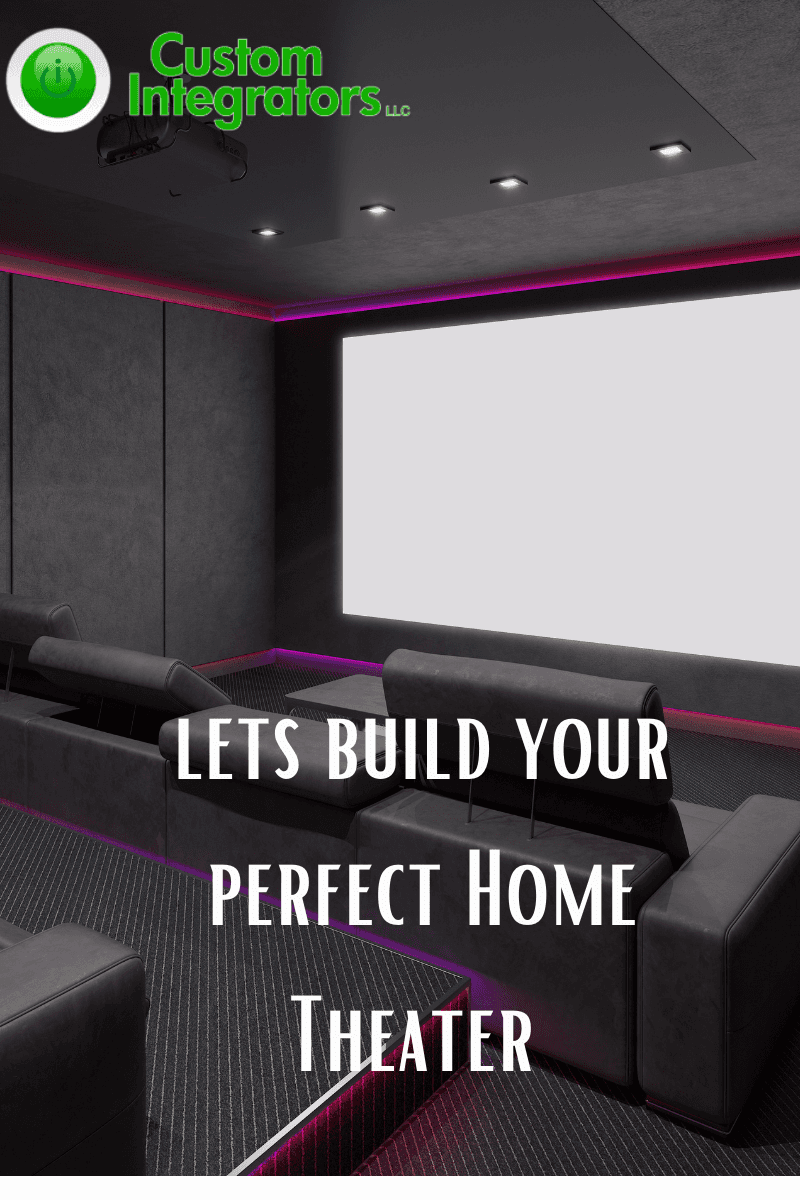 Choosing the Right Space for Your Home Theater
You may have already picked out a room in your house for your home theater. If you haven't yet, consider the following factors when assigning a dedicated home theater space.
The shape of the room
While a simple square room will be easy to design, acoustics could be an issue. If you can, choose a rectangular-shaped room in your house. This kind of shape will prevent any harmonic distortions.
The windows in the room
Movie theaters don't have windows for a reason. It doesn't take a genius to figure out that windows can negatively impact anyone's viewing and listening experience. Windows let in light that produces glare on the screen. On top of that, window glass can cause auditory and harmonic distortions.
The walls
The good news is you don't need any specialized type of media wall when converting a room into a home theater. You don't even need to go the extra mile and stick egg cartons on your walls to help muffle the sound.
Regular drywall and white walls should do just fine.

However, this doesn't apply to unfinished basements. The primary wall consideration you need to pay attention to is breaking up large flat areas of the room with drapes or home theater furniture.
There are plenty of home theater ideas available for large modern open concept rooms. Never use art or furniture with framed glass. As you know, glass is difficult to soundproof.
On top of that, it also lets in light.
If you have an unfinished basement that you're planning to convert into a dedicated home entertainment room, you can opt to install studs and drywall – not concrete.
You could also consider sound-absorbing acoustic wall paneling. These acoustic wall panels, engineered to stop echoes, make a world of difference. They work by appropriately modulating low and high frequencies in home entertainment systems.
Flooring
Soundwaves bounce off hard and flat surfaces. If your home theater room – whether it's a basement home theater, study, living room, or family room – has a hard and flat surface, you will have uneven sound quality in the space.
This scenario will not contribute anything positive to your overall home theater experience. When prioritizing your home theater ideas, don't forget to pay special attention to the room's flooring.
When it comes to your home media room's flooring, rugs and carpets are your best friend. You can purchase a plush carpet specially made for home theater rooms. These high-quality carpets and crafted to elevate the audio quality in-home media rooms or actual movie theaters.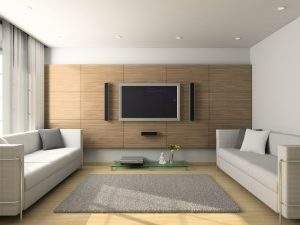 If your home theater room is on the ground floor, it's a good thing that you don't have to worry about becoming a noise nuisance. Nobody's going to hear what you play or listen to since no one will be underneath you.
On the other hand, consider installing a subfloor if your home theater room is on an upper level.
A subfloor installation combined with soundproofing installation such as wall-to-wall carpet is one of the most invaluable home theater ideas you need to realize.
However, if you rent a house, apartment, or even a micro-apartment, you can't just install a subfloor or incorporate wall-to-wall carpets for your home theater room. Thus, it would be best if you considered renter-friendly home theater flooring ideas.
As we mentioned above, rugs and carpets are available to you. These items can help bounce sound waves off hard flooring surfaces so that you can have a more optimal viewing and listening experience.
Furthermore, your family and friends can comfortably sit on the floor when you're watching your favorite movie or simply hanging out in the room.
On the other hand, if you are a homeowner, you have more liberty when incorporating different home theater room ideas, particularly when it comes to flooring and soundproofing the room.
Paint color in the home theater room
Think dark colors when considering paint color for your media room. It's not a good choice to paint a home theater room with bright colors. This is because brighter colors reflect light, which can obstruct your viewing experience.
Don't go for red or blue colors. They give off a distracting cast with the ambient lighting in your room. Additionally, you shouldn't paint your home theater room with semi-gloss or gloss sheens. Pick olive, tan, and neutral brown colors.
Basement Home Theater Design Ideas
Ideally, the perfect room to convert into a home theater is a finished basement. However, not all homeowners will have their basements or extra underground space ready to be converted. If you do, consider transforming your basement into your personalized home entertainment area.
Assigning the basement as the location for your home movie theater is an ideal move. Basements already have a concrete floor and solid foundation wall. It's a dark and isolated part of the house, suitable for a home theater system to work optimally.
Unlike other rooms in the house, basements don't allow sound to escape. This way, you can have the best sound quality from your surround sound system. On top of that, it's easier to control the lighting in the room.
While basements serve as the ideal location for your home entertainment area, there are important considerations before the remodel.
Here are the essential considerations before you transform your underground room into a home theater room.
Lighting
Most basements are poorly lit. While it's good to start with a dark room when you want to build a home theater, the space still needs adequate illumination.
With proper basement lighting, it's possible to make the basement home theater-ready. You can have light fixtures and dimmers installed. There are also smart lighting systems available on the market today. You can personalize the settings to meet your needs and control the system from your smartphone or other mobile devices through an app.
Wi-Fi Connection
A good internet connection is needed for streaming video, especially in 4K. Whether you're a subscriber to Netflix, Hulu, or Amazon, you need fast Wi-Fi connection for excellent and uninterrupted streaming.
Since the basement is an isolated part of the house, Wi-Fi signals may not be as solid and steady. The solution? Signal boosters for a more optimized internet connection.
Water Seepage and Dampness
Unfortunately, since basements are at the lowest level of a property, water seepage and dampness tend to happen – and that's not good news for any valuable home theater system.
On top of that, water pipes run close to a basement. During severe or harsh weather, these pipes might leak and flood the room. Fortunately, there are preventive measures you can take to avoid these scenarios.
To get rid of any dampness, you could place a humidifier in your basement. As for flooding prevention, you could seal the water pipes.
Wiring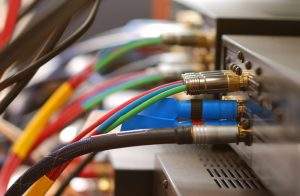 Wiring is a vital element in any home theater installation project. It is vital to ensure that your home theater wiring and cable management are safe and secure. It's best to consult an electrical professional.
A professional will know how to handle any electrical challenges in connecting your home theater system.
Furthermore, they will know the local building codes and guidelines to follow during construction or a remodel project.
Home Theater Tips for Better Sound Quality
Setting up your home theater for optimal sound quality is an important consideration. To get the most out of your home theater, here are some quick surround sound system tips.
Don't hide the subwoofer. If your home theater surround-sound system doesn't have a subwoofer, then you're already missing out on an elevated home entertainment experience.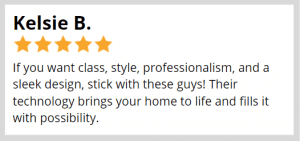 Since home theater rooms will not have the same layout, room size, and design for everyone, it's best to experiment with the best location for your subwoofer. Make sure the subwoofer is not touching or close to anything aside from the floor.
As the name suggests, place the main center speaker in the center of the room. Ideally, it should be above the screen and centered horizontally.
The size of the speakers you need for your home theater room will depend on the actual size of the room. A 5.1 speaker system typically works for a medium-sized room. However, if you have a bigger space, consider a 7.1 or even a 9.1. surround sound system.
Speaker manufacturers will have helpful resources and recommendations for the type of system you need based on the size of the room.
Calibrate, calibrate, calibrate. Without calibrating your speakers, the sound quality will not be optimal. Calibration doesn't just mean testing and adjusting the actual sound system and output levels.
Audio calibration also entails figuring out several factors about the sound system. These factors include the position of each speaker in the room, the listening positions, the size of the speakers, and the volume of each component.
Home theater design and furnishings will also impact audio quality. For example, plush carpets can help prevent echoes and contain noise levels.
Home Theater Lighting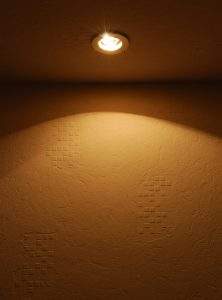 Mood and ambient lighting is the way to go when designing your home theater.
However, please don't overdo it. Remember that the lighting shouldn't distract your vision while watching your show.
If you want to go the extra mile for home theater lighting design, you can paint the ceiling black and add trendy star effect lighting. That's one of the most popular home theater trends that adds a great touch to any home entertainment area.
Most lighting systems have a remote sensor installed so that you can control them through an app from your mobile device.
Décor Ideas for Your Home Theater Room
Framed movie posters, sports merchandise, glassware, popcorn machine, counter bar, or drinking bar – these are just some of the items you can add to your home theater.
Whatever décor or theme you have in mind or home theater trends you want to follow, there are plenty of options available for you so you can decorate to your heart's content.
Home Theater Control Systems
When it comes to control systems for your home theater, you can choose one to meet your specific needs. We are specialists in working with the world's best control system Control4 The best thing about these systems is they are entirely customizable. You don't even need to be highly tech-savvy to manage your control system.
Whole-home automation systems will help you manage the system's sound, display, lighting systems, and other functions all in one convenient place.
Keep It Simple and Effective
With numerous options available in the market today – from interior design elements to viewing screens to surround sound and automation systems, it's easy to get overwhelmed by various home movie theater ideas and trends.
Your main objective should be to create a space where you can express your personality while elevating the décor of your home. Your home theater room should be a comfortable and functional space where you can happily entertain your friends, family, and guests.