Purchasing a new HDTV is a substantial purchase that demands careful consideration, like choosing whether to DIY or get expert TV installation services. There are several factors to consider while making this decision.
Many TV installation services contractors will install a new television for a charge. Many people, however, reject this choice and choose to do it themselves. Let's talk about whether getting professional TV installation services is worthwhile.
Think About The Complexity of the Project
Choosing to get professional TV installation services is influenced by the task's difficulty and your DIY abilities. If the TV will be placed on a stand, in an entertainment center, or has a built-in base, hiring a professional to install it is usually unnecessary. However, consider getting expert TV installation services if you need to mount the TV to a wall.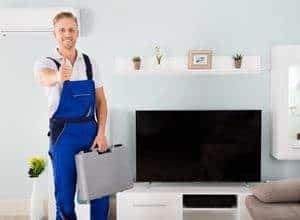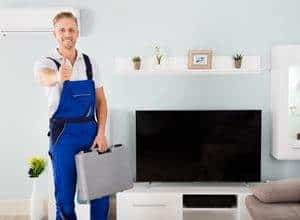 Even if you are confident in your abilities to mount the television on the wall, you should examine the wires. It could be more attractive to have wires hidden rather than dangling from a wall-mounted television. Flat-wire technology or routing wires through the wall are two of the few alternatives for concealing cables. Either option makes the installation procedure more difficult.
Accuracy And Precision
It's best to get it properly for the time and effort you're putting in. Finally, every consumer wants the television to be installed as evenly as possible. Hire expert TV installation services, like ours here at Custom Integrators, to avoid worrying about these little concerns.
No Extreme Lifting
Even though flat displays have dropped in size and weight, they are still fairly heavy. A high-end television can weigh over 100 pounds.
Lifting huge weights on your own might be taxing, which is completely natural. If you need to be up to the effort or need access to help, hire professional TV installation services. It will simplify things and lessen the danger of back issues.
Efficiency In Time
The procedure of installing a television takes considerable work and time. Fortunately, an entire service business sector is dedicated to relieving homeowners of the burden of this procedure.
After all the time and work put into installing it, a DIY endeavor might result in a crooked or messy-looking TV. Leave the installation to the professionals to minimize frustration and save time.
What are the Kinds of TV Installation Services?
Complete Setup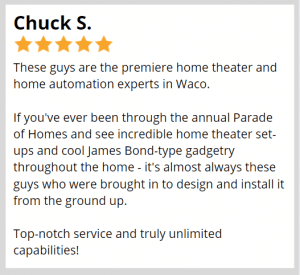 Unfortunately, the television installation procedure still needs to finish with the television being hung on the wall. The tough part follows: installing soundbars, surround sound setup, shelving, device, cable box settings, and so on. Most TV mounting providers are well-equipped to handle these technical nuances to ensure a trouble-free experience. As a result, it is advisable to choose expert TV installation services.
Several TV installation services are available for the best viewing and aesthetic design. Expert TV installers can provide a solution for you whether you need a simple flat TV mount or a motorized mount that conceals your TV.
Mounting Surface: Flat
A flat mount appears to be straightforward, but other aspects must be considered. Flat TV mounts allow you to position your TV as near to the wall as possible. When you buy the TV and mount, the hardware frequently does not allow for the smooth installation you need. Other installers may need more experience or intuition to detect hidden hazards such as high-voltage electrical cables or water pipes.
Tilt Mounting
Tilt mounts are ideal for mounting televisions higher than eye level. This is often found in a bedroom or over a fireplace mantel. Tilt mounts also improve access to HDMI ports and other connections, which may be required frequently if you utilize gaming consoles or other portable components.
Mounting Swivel
A swivel or full-motion swing arm mount will not keep your television close to the wall but will allow you to alter the viewing angle at any moment. This is useful when many seating locations and a swivel mount TV installation can accommodate them. Swivel mounts are also excellent for hiding a TV in a cabinet or corners.
Fireplace
There are several alternatives for mounting your TV above your fireplace, some of which must be considered, such as a tilt mount. Mantels are often rather tall, and you'll want to keep your precious investment as far away from heat and smoke as possible. We're not assuming that your fireplace is leaking, but any lingering smoke and dust from the ashes may harm any gadgets over time. You might choose a mount that extends and lowers for a better view.
Mirror Television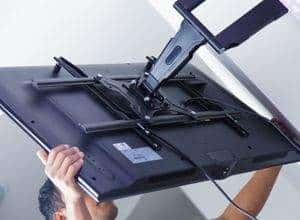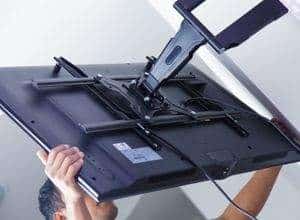 Many individuals start their days by viewing the news, financial market updates, or morning programs. Mirror TV Installations maintain clean living areas while delivering information and enjoyment throughout your hectic schedule. When you turn on the TV, it appears through the mirror, and when you turn it off, it is simply a mirror. Because the monitor is positioned behind a mirror, the image quality will suffer. Before purchasing a mirror TV, please make an appointment to see it.
Considerations For TV Mounting
Electrical Plug
You will need an outlet behind the TV to simplify your installation. You may also require a recessed outlet to allow your TV to be placed as near the wall as possible. This will provide adequate room for the TV power plug without pulling the TV away from the wall. Our professionals at Custom Integrators will review this with you and recommend the best solution for your TV installation.
Connections for Smart TVs
Having a smart TV necessitates the use of a network connection. This is doable over WiFi, but it may result in bandwidth concerns, slowing down the entire network. Netflix, Hulu, and other streaming video providers should be plugged into smart televisions. We at Custom Integrators can install your TV and connect it to your router via a hard wire through our expert TV installation services.
TV Height
As a general guideline, mount the television such that the center of the screen is 42″ off the floor. The height of the TV will be determined by the size of the TV and the seating arrangements. We will assist you in determining the best height for you and your family.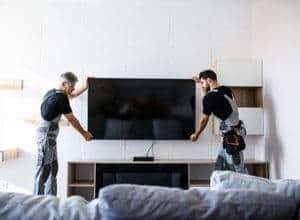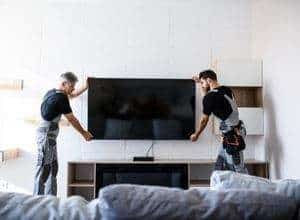 TV Connection Access
Depending on your TV mount choice, accessing connections on the back of the TV may be easier or more difficult. Most connections are made at the installation time, although some TVs are regularly linked and unplugged from gaming consoles and other peripherals. Please let us know if this is your situation so we can explore the best choices for you.
Outdoors
We realize you want to spend as much time as you can outside during the warmer months. Installing an outdoor TV allows you to enjoy the outdoors while not missing any live television events, and it also adds to outdoor entertainment. We at Custom Integrators are incredibly educated in outdoor technology experiences, whether you are barbecuing or simply resting outside. Due to the risk of electric shock, using an indoor TV outside is not advised or safe. When contemplating any outdoor electronics, always speak with an expert.