Whole house audio systems differ significantly from the two-piece speakers used in a listening room. You can play music in each bedroom and outside on the patio with whole-home audio. Not only will this automation enhance your music options, but it will also allow you to save space and entertain guests more effortlessly.
How Whole House Audio Systems Work
There are several ways to distribute music around your home, such as wired or wireless connections controlled by a mobile app, remote, tablet, or voice-activated speaker. You can utilize a receiver as the system's central hub or create fully specialized whole house audio systems. You may tailor the system to your preferences, whether you want strong floor-standing speakers or discreet in-wall and in-ceiling speakers.
Multi-Room Music With A Receiver
A speaker B switch incorporated into a receiver is the most basic method for whole house audio systems. The speaker B output may power another pair of speakers in another room, accessed by running cable lengths. Add speaker selecting switch for another area of speakers. Adjust plates can be coupled with switches to simply control the volume and media for your whole house audio systems.
Audio Over A Wired Network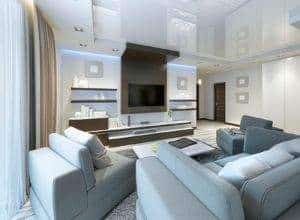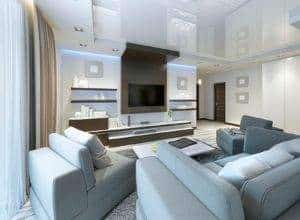 If you want to use various audio sources (streaming, DVDs, CDs, vinyl, etc.), you will require a home theater receiver with multi-source capabilities. Powered multi-room outputs in up to 3 zones are available on some receivers. Other versions have line-level outputs, which need the installation of a separate stereo amplifier for each listening zone.
A wired network is another option for whole house audio systems. Running cables through existing walls might be tricky, but it is extremely beneficial to a whole house audio system. Through multi-zone audio systems from various manufacturers, network cabling using CAT-5e or CAT-6 cables may assign digital and analog audio to remote zones. This dependable system will let you play whatever material you choose.
Wireless Audio Network
If your home isn't already connected and retrofitting isn't an option, you may always install wireless whole house audio systems. Previously, we thought wireless choices were less dependable than cable and had poor audio quality. Today, though, some modern wireless speakers and systems sounded just as powerful and clear. You may build a network of speakers that will play your tunes in every room you go through using Wi-Fi or Bluetooth.
Benefits of Whole House Audio Systems
Consider these significant benefits of whole house audio systems if you're still on the fence about making the switch.
Hide Everything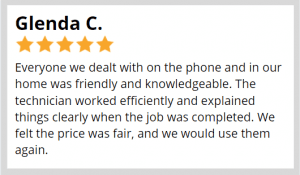 So, you have a new speaker. You start by looking for an outlet to put in the speaker, but if you do not have a shelf or a table, you'll need to rearrange your furniture. Then there's the unsightly wiring. You saw an advertisement for this amazing, trendy speaker on the internet, but it does not appear the same in your bedroom.
When it's time to bring people over for a party, you realize you can't even play the same music throughout every room simultaneously to keep the audio volume consistent throughout the home. Whole house audio systems address all of these difficulties.
A professionally designed whole house audio system's best feature is the ability to make your speakers disappear. We at Custom Integrators can mount invisible speakers on the walls or on the ceiling to conserve space and keep those cords out of the way. Either type will reduce clutter and improve the appearance of your lovely home.
Control Your Music Anytime, Anywhere
Most people choose convenience when it comes to music, which is why digital music sales have surged over the last decade. However, whether your library is digital, you are a die-hard vinyl collector, or you can't part with your prized CD collection, we will work with you to link all of your music sources.
The advantage of adopting integrated whole house audio systems is that you can effortlessly switch between music sources by using a mobile device or a touch screen.
Stream online radio, such as Spotify or Pandora, before switching to your iTunes account or turntable. Simply choose the source, playlist or singer, the room, and then push play on your tablet, smartphone, or smart touch screen.
Fine-tune Your Listening Experience
Have you ever been inside a room and been bombarded with music in one corner, only to hardly hear the song when you went five feet in another? If you want equally dispersed sound in your Texas home, you should hire experts like us at Custom Integrators to develop the proper arrangement. The advantage is that you can walk from the front entrance to your bedroom while listening to the same song with the same loudness and clarity.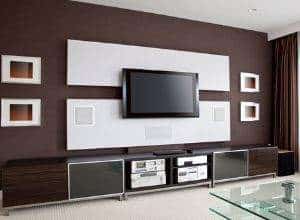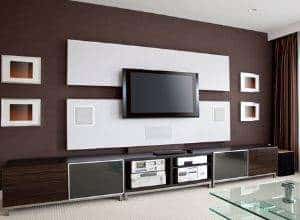 You may choose to place speakers around your home with no architectural constraints. This allows you to create unique music zones so that each family member may enjoy their preferred entertainment without disturbing others. Each of our installations is tailored to your specific requirements and house measurements, ensuring that the audio is tailored to each location.
A Streamlined Aesthetic
Today, you have several options available to achieve the aesthetic you want — especially if you have an experienced integrator, like us at Custom Integrators designing your system. Professionally installed in-wall and in-ceiling speakers with paintable grates are virtually invisible when you walk into a room. We can also install custom-made bookshelf speakers to match your shelves' veneer. We can ensure that you'll find a solution to integrate seamlessly with every room in your house.
Centralized Control and Convenience
Among the best aspects of high-fidelity, whole house audio systems are that it is all easily controlled from an app on your smartphone, mobile phone, or computer. It means you don't really have to get up from your favorite chair to change tracks if you're sitting there listening to music or reading.
A System That Extends Outdoors
Your backyard or patio is also a "room," and you can easily integrate outdoor equipment into your multi-room audio system. Use a similar control system on your smartphone or touchscreen to send your music outdoors when you want to take a mid-afternoon dip in the pool.
Suppose you want to extend your audio system outdoors. In that case, we suggest consulting with a professional integrator like us at Custom Integrators. Outdoor systems require speakers designed to withstand environmental elements and provide powerful sound that covers large open spaces and compensates for natural noise.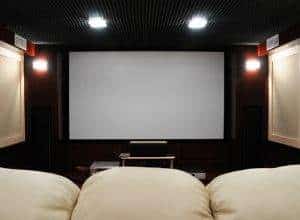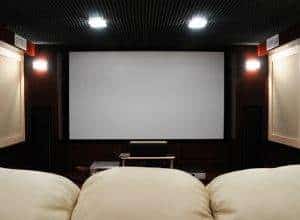 We can help you choose the best speaker set for your area, as well as help you expand your network coverage so you can listen to streaming services outside.
Proper Calibration
Once your speakers are installed, our team can calibrate each speaker for optimal audio performance based on the room or hallway it's located in. Factors like wall type, furniture, carpeting, window shades, and more can significantly impact how your audio system sounds. That's why we use professional-grade hardware and software to ensure your multi-room audio system sounds as good as possible.
A Personalized Listening Experience
Even in a house filled with people, you have the power to control your personal listening experience. With whole house audio systems, you and your family members can enjoy your music and audiobooks in different zones of the house. Create specialized playlists and volume preferences for certain rooms so you can jam out on your terms.
If you're ready to take your home audio to the next level, contact us at Custom Integrators. Our skilled integrators will work with you through every part of the design and installation experience. Hence, you end up with a system that will make your life more comfortable, convenient, and enjoyable.