Many of the best smart home automation companies have expanded along with the popularity of smart homes. Others have more restricted capabilities, while others allow you complete control over almost every aspect of your house. It's good to be clear about your home automation requirements before picking the best smart home automation companies for you.
Home Automation: What Is It?
The autonomous management of your house's technological gadgets is known as smart home automation. Their Internet connectivity allows these gadgets to be managed from a distance. With smart home automation, gadgets may be controlled automatically without needing an app or voice assistant.
For instance, you may program your lights to turn out when you regularly go to bed or set your thermostat to turn on the air conditioning an hour or so before you return from work to avoid coming home to a steamy house. Home automation improves convenience and may save energy costs for heating, cooling, and electricity.
The Function of Home Automation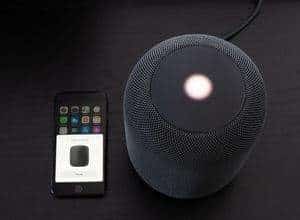 Home automation utilizes a network of gadgets linked to the Internet through various protocols, such as Wi-Fi, Bluetooth, ZigBee, and others. The gadgets may be controlled remotely through electronic interfaces using either voice assistants like Alexa or Google Assistant or apps as controllers.
Many of these Internet of Things (IoT) gadgets feature sensors that keep track of changes in motion, temperature, and light so the user may learn more about the environment around the device. The user activates actuators, which are the actual physical components—like motors, motorized valves, and smart light switches—that enable remote control of a device.
There are three degrees of home automation:
Monitoring: Users may remotely check in on their gadgets with an app to do the monitoring. An individual could see their live feed from a smart security camera, for instance.
Control: By controlling a gadget, a user may remotely pan a security camera to get a better view of a living area.
Automation: Last but not least, automation entails programming gadgets to activate one another, such as having a smart siren sound whenever an activated security camera senses movement.
Components Of Home Automation Systems
What kinds of items are compatible with home automation systems? Ideally, everything that can be networked can be automated and remotely managed. Home automation most often links simple binary equipment in the real world (as opposed to research facilities and the residences of the wealthy and famous).
This covers both "on and off" equipment like lights, plugs, and electronic locks, as well as "open" and "closed" devices like security sensors.
The Internet-enabled gadgets that connect to this network and regulate it are where home automation becomes intelligent. The home computer, for which many early home automation systems were created, is the standard control device.
For example, the control panel of a security system and an intuitive app interface that can be accessed through an Internet-enabled PC, smartphone, or tablet are increasingly often used in today's home automation systems to spread programming and monitoring control.
Many of the smart gadgets created by manufacturers are packed with cutting-edge capabilities. Still, only a small number of them provide the level of integration required to be a part of a comprehensive home automation system. The fact that each manufacturer has a distinct view on how these devices should be linked and operated has contributed greatly to the issue.
The final result is often a different control method for each item, even if you have a smart TV, washing machine, refrigerator, thermostat, coffee maker, or any other Internet-capable home appliance on the market.
Home automation might soon become standardized, allowing us to benefit fully from these new opportunities. For the time being, the most important and practical components of a connected house have received the attention of home security companies specializing in home automation.
This refers to the doors, windows, and environmental controls that keep you safe and comfortable, such as thermostats, smoke alarms, temperature, humidity, fire, and carbon dioxide sensors.
Home automation solutions from the best smart home automation companies should also provide alternatives for security cameras for more real-time convenience, security, and control. The better systems would also allow you to integrate individual electrical outlets and lights into your home automation plan.
What Can Be Accomplished With Automated Smart Homes?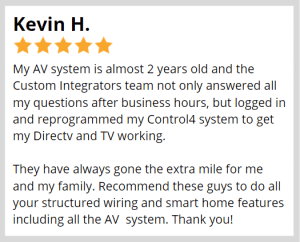 In a smart house, almost everything that uses energy can be automated. To pick the optimal solutions to accomplish your desired functionality results, you must first decide on them.
Some of the most practical and well-liked elements of home automation are listed below:
Autonomous Lighting
When someone enters a room, sensors may activate the lighting. This is particularly helpful in stairwells and corridors where light controls may not be easily accessible.
More sophisticated programming for lighting is also possible. For instance, you might set your lights to come on extremely dimly after 10 p.m. and gradually increase to just 30% brightness. This may make nighttime awakenings less disturbing to your sleep.
Electronic Door Locks
When you arrive at your house, sensors may recognize your smartphone, unlock your front door, or open your garage.
Additional devices, including lighting, music, and heating, may be turned on by unlocking your front door or garage. These systems may recognize various users, each of whom might have unique settings.
Smart Cameras For Security
Smart security cameras can automatically detect activity outside your house and provide live photos and notifications to your smartphone so you can evaluate the situation for yourself.
Automated Curtains
To maintain a comfortable temperature and use less heating and cooling, sensors that detect the light and temperature of a room may automatically shut or open your blinds.
Your blinds may shut automatically on a hot summer day or open automatically on a beautiful winter day to maximize the sun's energy and minimize your demand for heating.
Predictable Cooling And Heating
You may design your heating and cooling systems to operate automatically at certain times or temperatures and to shut off automatically when no one is in the room, as detected by sensors.
Choose The Best Smart Home Automation Companies
The best approach to ensure your project runs well and obtains the features you want is to seek help from the best smart home automation companies, like us at Custom Integrators.
We can advise you on the best features and suggest the ideal goods and systems, ensuring that all systems are compatible with one another and achieve the desired results.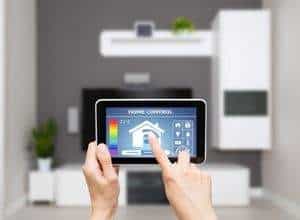 Before choosing the best smart home automation companies, consider the following points:
List Where Automation Is Required
As you move about your home, list the appliances you often use that can be automated. Your road toward automation might start with everyday objects you regularly use, such as lights, geysers, the coffee maker, fans and air conditioners, gates, and garage doors. Choose the gadgets and systems depending on where you might save the most time or have less to worry about.
Observe and Manage
When you are gone, remote access is very helpful. Features like remote lighting control, mobile video monitoring, and geyser activation may be convenient before you arrive home. Remote monitoring and control will give you the best automation experience – a critical factor when opting for a home automation solution.
One should keep in mind the ease of operability, check user interfaces, and the ease of use, keeping everybody at home in mind.
Security Solutions
When it comes to home automation, the most crucial part is security. We all need secured locks, door systems, and the best quality surveillance cameras. Learn which lock type they use for automation. Check if they offer automatic door lock systems in case you forget to lock doors. Do they offer remote operations of the door when you are not available?
Surveillance cameras often help you intimidate criminals. Camera footage helps investigate if somebody breaks in, but most importantly, your security system must alert you on your mobile phone if somebody is trying to break into your house. These are essential factors that must be considered before choosing the best smart home automation companies.
Cost Factor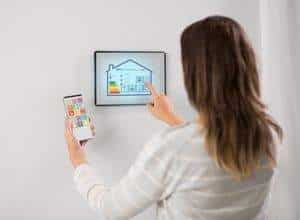 When looking at automation solutions, one must always be informed about the total cost. Enquire whether there will be monthly service charges apart from the one-time installation fees. Consider the total cost before signing a contract with the service provider. However, always strive for a better deal.
Understand Privacy Policies
Read all terms and conditions and privacy policies before signing a contract. You must understand how your data is used and shared from the device. Check if you can customize sharing data according to your needs.
Comprehensive Technology Installation Experience
When looking for the best smart home automation companies, you'll want to find one with extensive knowledge about audio and video installation and integrated technology work.
We at Custom Integrators are a home automation company responsible for all phases of AV and integrated technology work. Our team has experience in installing a wide range of smart solutions. Whole home audio, home theaters, lighting control, home surveillance, motorized shades, and outdoor entertainment are just some of our offerings.
Availability of Services
You may need emergency services in case of any automation system faults or failures. Before choosing the best smart home automation companies, check if they are locally available.
Smart Home Automation solutions can benefit you in this fast-paced life. Nowadays, these systems are easily accessible, which means being more aware and informed of the products and services offered is an advantage.