The turn of the 20th century was a different time for home entertainment compared to now. Families had various activities like playing music, dancing, reading, or listening to the radio. Back then, people often had to go out for fun – to places like theme parks, local cinemas, plays, and sports events. Television started in the 1940s. But things have changed!
Today, thanks to a custom audio video installation, you can elevate your home entertainment experience and have more fun with your family right in the comfort of your own home!
What Are The Benefits Of A Custom Audio Video Installation?
Boost the Quality of Your AV
This scenario often happens: you purchase a new flat-screen TV, take it home, and find the sound isn't loud enough. The picture seems great, but you must crank the volume to hear the movie. The fact is, as TVs get thinner, speakers perform worse. An average flat-screen TV has two speakers slightly bigger than a quarter. With speakers that small, you can't anticipate proper sound, plus you won't feel as involved in the action as you'd like.
If a surround sound system is too much for your budget or space with its full 5.1.2 or 7.1.2 setup, a good soundbar can work well for now. Pick a quality brand like Sonos for the soundbar, and you can crank up the volume for clear improvements. Call us at Custom Integrators, and we'll set up a lovely soundbar system in your living room. And when you're ready for an upgrade, we can expand your setup anytime – like getting a 4K TV or setting up a complete Dolby Atmos surround sound system.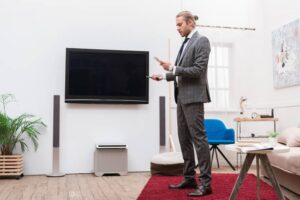 Easily Control Content in Every Room
A smart custom audio video installation has an innovative benefit: effortlessly moving content between rooms. To give you an idea, you can begin watching a movie in the living room, pause it, and then continue from where you stopped upstairs. Enjoy distinct channels in each room, whether it's indoors or outdoors.
Alternatively, have the same show playing on all screens. Control4 offers a range of switches and controllers for audio and high-definition video distribution. These can be adjusted to fit your home's size, whether you have 15 TVs or just three. We have the proper equipment to fulfill your needs.
Another added benefit is simplifying your controls. You won't have to worry about remembering which remote control to use; we have universal remotes that can control everything from lights and shades to your TV and speakers. Keep a tablet in a central location so anyone in the house can move it from place to place, or install a touch screen in the wall so it's always easily accessible. We'll help you choose a control device that makes sense and suits your preferences.
Easy to use with one hand even in the dark, Control4's remotes have an extremely fast response time and bright, high-resolution displays.
Reduce AV Clutter
When you work with a local professional like us at Custom Integrators, you can minimize clutter and organize all of your equipment. Our team will place cable boxes, streaming players, Blu-ray players, and other media components in a closet or storage area so that it's out of sight and won't affect your home's aesthetics.
Our professional equipment racks are neatly organized and efficient, so your wires are always in a good place. Instead of investing in various Blu-ray players for all your rooms with TVs, you can distribute one or more across your home and then easily switch sources. For example, you can play the same movie on all the screens, a baseball game on one, a Netflix movie on a second, and the local news on another. It is up to you to choose which sources you prefer, and it's up to us to make it simple and effective.
Elements of a Custom AV Installation
Prewiring
If you have a new or renovated home, prewiring services can improve how the different elements work behind the scenes, hiding unpleasant cords and circuits.
Networking
Take control of your home network, handling everything from smart devices to televisions using our networking system. Enhance performance and security with improved home WiFi coverage through a networking setup.
Televisions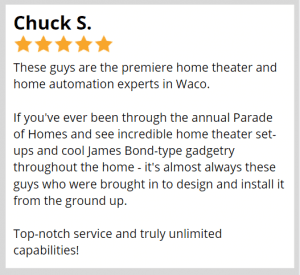 Whether you're tuning in for news, keeping the kids entertained, gaming with the latest blockbuster, or having a movie night, the television has become the center of a modern household.
Projectors
To create a genuine home theater experience, you need a traditional projector as the base. Enjoy sharp, vivid pictures with a cinematic feel right from your couch. The experts at Abt can install and adjust digital projectors, including anamorphic lenses and fixed and automatic-masking screens.
Home Automation
Sometimes called the "smart home," complete home integration means using smart devices to watch over and manage your house. Things like smart appliances, virtual helpers, security setups, and automatic lights are all smart devices. Many of them link to your phone.
Multi-Room Audio
Your songs don't need to be confined to one room where your stereo is. Our experts can set up a special sound system that allows you to listen to your music from any room in your house.
Full Home Theater
You can create your home theater to make your home entertainment amazing. Our custom audio video installation experts can build entire home theaters from scratch.
Remote Programming
Handling many smart gadgets might seem like a lot. Yet, running a multi-part setup can be easy. Start your system with a simple button press using remote systems.
Tips When Hiring Custom Audio Video Installation Experts
If you are considering custom audio video installation for your home, we hope you will take the time to read these tips and tricks for hiring an integrator.
Certifications
This is the most black-and-white way to compare custom audio video installation integrators and determine if a company is reliable. The easiest way is to ask for a list or check their website. Most integrators have certifications and affiliations on their website, but if they still need to, feel free to ask!
Experience
Ask how long the company has been in business. You want to make sure you are working with a company that will continue to be around to service and upgrade your system. Ask about the team members. Questions like how much experience the technicians have and how many members are on the service team will allow you to figure out how well the company will be able to serve you.
Ask the integrator about recent projects they have completed and what types of technology they installed. I have included some questions below to get you started.
Consider these questions: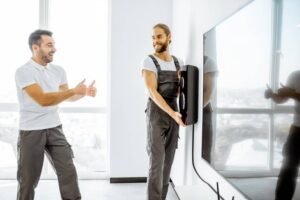 • Tell me the last time something on a job didn't go as planned. What was done to solve the problem?
• Tell me about a design challenge that your team had to overcome. How did you come up with the solution?
• Tell me about the last job that was completed by your team.
• Do you recommend one control system, or does it depend on the job?
Questions like these don't have set answers and will allow you to get a feel for the knowledge of your integrator and get to know their personality.
References
For whatever reason, many people don't ask for references. This is always the first thing I do when looking to hire someone. I always ask for two or three references, specifically asking for them to be jobs completed in the last few months. That way, I know I am getting a true sample of the integrator's recent work, and I am not just talking to their "biggest fans."
You can also take this one step further and ask for contractor references. Builders, architects, and other trade professionals can be a great asset when determining the validity of a custom audio video installation company.
Office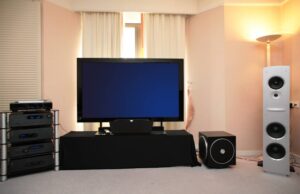 If you hire an integrator for a custom audio video installation, someone working out of their home garage may not be the right person for the job. You need to know that you can trust your integrator with your money and time and that they have ample resources to prep, build and install your system. Most integrators who operate on the caliber you are looking for will have showrooms or design centers where you can go and touch, see, and experience the technology they offer.
We are Your Trusted AV Integrator
We at Custom Integrator make sure to include top-notch items from top brands in every project, regardless of its scale. Our specialists will simplify the whole procedure for everyone involved, starting from initial planning and ending with the final execution. If you have a particular design or idea in your thoughts or specific technologies you desire for a special media or listening area; we will fulfill all your requirements and offer a high-quality AV setup every single time.
Want to learn more about partnering with our team for your upcoming audio-video installation? Please give us a call today.