A whole house speaker system differs greatly from the typical two-piece speakers in a listening room. With a whole house speaker system, you can listen to music in each bedroom and even outside on the patio. Home automation will not only expand your music selections, but it will also help you to conserve space and entertain visitors more easily.
What Is A Whole House Speaker System?
A whole house speaker system is a system that carefully sets speakers around your house to produce the same crystal-clear sound effects as surround sound. While surround sound is restricted to a single room, multi-room audio provides the same benefits throughout the house. You can effortlessly manage the audio with your smartphone or tablet, allowing you to listen to music or watch your favorite TV show at any time with exceptional sound quality.
Speakers must be positioned in each room to install a whole-home audio system. They are fitted into walls, giving you a clean, uncluttered look without sacrificing sharp sound. The technician examining the acoustics in the home to decide where speakers should be put in each room for the optimum sound quality is part of a home audio installation.
What Are the Advantages of Whole-House Audio?
Fewer Interruptions
Wireless connectivity is often used in whole house audio systems. And because it's independent of your smart device, you won't have to stop listening to music whenever you receive a new notification or a text message. Rather, you may navigate around your phone while listening to music. It's also a great way to entertain friends and family. If you're holding a party, your guests can move from one place to another or even outside while listening to the highest quality and loud music.
The Ultimate Convenience
One of the most appealing aspects of whole-house audio is the ability to control it from an app on the phone, computer, or tablet. If you're listening to music in your favorite chair, you don't need to get up and grab a controller to change tracks. If you work from home and enjoy jamming out, you can turn off the music and take a call without disrupting your tasks! Your music is at your fingertips, thanks to a simple smartphone or mobile app.
Flexible Content
If you have children, teens, or young adults, they may listen to their favorite music while performing everyday duties. While mom is busy in the kitchen, she could listen to their favorite music while the kids groove out in their zones. Each family member can select their own radio station or music selection while in their own space.
Increase the Value of Your Home
A whole house speaker system is an excellent addition to any home; installing one is advantageous when selling. It has several benefits that allow you to live a more luxurious and comfortable life. That is, it can benefit other families for years to come and boost the resale value of your property.
Diverse Streaming
A whole house speaker system may link to your accounts and play your favorite playlist. You may select music from streaming services like Spotify, Pandora, and Tidal, as well as your iTunes or Amazon Music libraries.
Getting Rid of Equipment Clutter
The many systems to operate are among the most aggravating features of AV systems for many users. Each room may have various types and brands of remotes and equipment. A centralized whole-house audio-visual system eliminates all of this. All source equipment is carefully stowed in a new cabinet or closet. The control system is consistent, with a single remote allowing you to access all the entertainment.
Listen and Watch Anything, Anywhere
The whole house speaker system sends your AV sources anywhere you want to watch or listen to them. Architectural speakers are designed to be hidden in ceilings and walls, so no speakers or cords will be seen. You may share cable boxes and DVRs across many locations for video, reducing complexity and clutter.
More significantly, all of your entertainment is accessible via a single user-friendly interface. In the workplace, listen to jazz while your partner listens to rock in your kitchen. Begin a movie in your media room and finish it on your bedroom bed. To handle content and volume, use a single interface and remote, while automatic sequences turn everything on to the appropriate settings.
Consistent AV Quality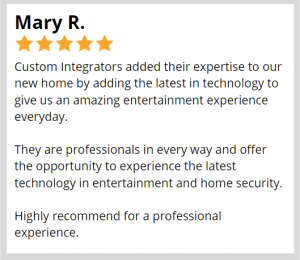 Every room in your house receives the exact high-quality lossless video and audio transmissions. The quality of cable TV or broadcast, music, and streaming sources will all be the same. Everyone may enjoy their favorite high-quality entertainment, so no one feels left out.
Equipment is Easily Accessible for Upgrades and Maintenance.
With a whole house speaker system, you may not only eliminate technological clutter throughout the house, but the concentrated position can also offer appropriate ventilation for equipment such as amplifiers, extending their lifespan. Troubleshooting is simplified, access is easier, and when it's time for an update, it is easier to connect and set up the equipment.
Integration of Smart Homes
Smart home systems include whole-house AV. These systems can merge entertainment control with climate control, lighting, motorized window coverings, and other features. One interface may not only simplify your pleasure, but it can also provide tremendous convenience. With the press of a button, you may create unique scenarios, including video entertainment for exercising, cooking, relaxing, watching movies, listening to music, and more.
How To Select A Whole House Speaker System
Options For Speakers
A whole house speaker system isn't just about the speakers; they will be the most influential aspect of your sound quality. Whereas a whole home system used to mean only built-in speakers, the modern day's options enable you to include a variety of speakers into the setup, including bookshelf, wirelessly powered speakers, architectural speakers in walls, ceilings, and outdoors, and floor-standing towers.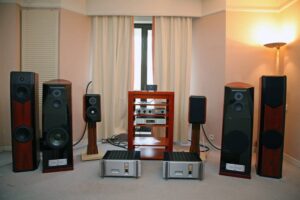 You may have the same speaker brand everywhere because many leading manufacturers have expanded into outdoor and architectural speakers. However, you're not required to use the same brand. You may have a home theater or listening setup with your preferred speakers and components that can connect to your entire home system and employ architectural speakers from various manufacturers in secondary locations. The decision is yours, based on how you will listen to and enjoy audio in different sections of your house.
Amplifiers
The number and kind of amplifiers you need will be determined by the system you choose, the number of speakers you have, and how many areas or rooms you have. Why are amplifiers being discussed? Because sound quality is dependent on matching them to the speakers in every location. Higher-end speakers need more power and better amplification than others, particularly if you want them to play loudly and clearly.
Sources
Another significant factor to consider is the sources of your music. Do you have a sizable digital music library? What formats does it support, such as MP3 or lossless? Do you prefer Apple Music, Spotify, or Tidal for music streaming? Do you wish to listen to high-quality music? Some of these options may favor one system over another.
There are also choices, such as systems based around multizone home theater receivers with wireless streaming capability. Much depends on the size of the system and how you interact with it.
Control
More importantly, a whole house speaker system must be simple to use. No matter how excellent the sound is, you will be frustrated if you can't bring up what you wish to hear and where you wish to hear it in a few seconds. The UI should be simple, and switching between your music library and Spotify should not need too many steps. We also understand that only some people like to utilize a touchscreen all the time.
You can view your options on a large TV screen at times. Sometimes you want to press a button on your wall, and music will start playing. Not all whole-house systems provide you with all of your options. Not all of them could be integrated with other smart home features. We can at Custom Integrators can assist you in sorting through the pros and cons of each and deciding on the best system for you.
Why Should You Hire Professionals To Install Your Whole House Speaker System?
Layout and Design
If you want to enjoy your entertainment experience genuinely, you need to work with specialists to properly set the speakers and other components of the sound system. They can assess how your media will appear and sound best based on the room's acoustics. They will evaluate the following elements during the design and layout process:
Window placement can affect the visual quality of the screen
Acoustics and room insulation
Seating arrangement and positioning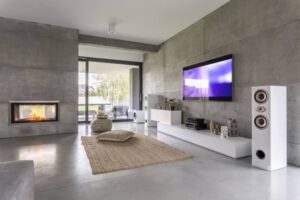 Audio Quality
Setting up a home theater is only worthwhile if the sound is up to par. A good home theater expert like us at Custom Integrators can advise you on which equipment will improve your sound based on the space size and how much money you must spend. We can maximize the space's acoustics without creating a canyon effect or unpleasant echoes.
Running Wires and Cords
When there are several connected devices in a room, it typically indicates the presence of a cable spider web. If the cables do not become tangled, you will undoubtedly discover them thrown throughout the room, creating an ugly and perhaps dangerous mess. When specialists are hired, they will guarantee that the wires are placed and routed so that they nearly disappear. In other circumstances, the hired specialists can set up a wireless theater, which is even better.
If you're ready to enjoy your whole house speaker system, please call us at Custom Integrators. We can examine your area and improve the design for you to get the most out of the new setup. We can also troubleshoot on-site to ensure your new whole house speaker system is set up quickly and efficiently. Professional installation services are ideal for optimizing your new home theater, no matter the number of components you wish to incorporate in the room.