"OK, Google, what is smart home automation?" You might have heard about home automation in the news. Or maybe friends and neighbors have talked about how they've taken steps to make their houses "smart."
From convenience to safety to fun and entertainment, there are a lot of benefits to home automation. But you may need to learn how or where to begin. For instance, what should you do first, choose a smart hub or pick your devices? Do you start with lighting or temperature controls? What's the best smart home setup?
What is Smart Home Automation?
Let's begin this smart home automation guide with a basic explanation of what it is. Home automation uses technology to integrate various devices and systems around the house to enable the automation of various functions in your home. For instance, with a home automation system, your home can automatically change the temperature, lock doors, adjust lighting, or arm your security system based on your set parameters.
What is Automation?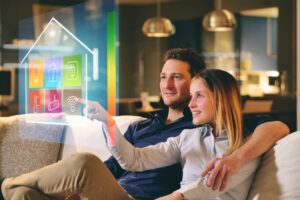 A network of devices throughout your home is connected to the internet. The devices can communicate with one another and home residents through the internet or sometimes through Bluetooth. Depending on your needs, your home automation system may have automated command protocols.
In having automated commands, you can schedule commands for your devices to execute. If waking up in the morning is a challenge for you, you can instruct your speakers to play your preferred music when it's time for you to get up. This way, you will wake up refreshed rather than frazzled from the mini heart attack your loud alarm clock gave you.
Additionally, you can direct the motorized curtains to open and close according to specific times during the day, depending on the desired light in your house. Another thing you can schedule for your luxury home automation system is turning on the garden and door lights in the evening.
Home security devices can also be given automated commands. They can be programmed to send you an email, a photo, or a video feed whenever someone comes to the door, whether family members are coming home from errands or couriers bringing your online orders. You can also set an automated command to turn on your house lights when your security system detects an intrusion or a fire alarm.
The Advantages of Smart Home Automation
What can automation systems do for you? Surely, it all depends on what you want and need. Here are a few of the benefits of home automation systems.
Convenience
Automation can make various tasks easier; it can save time in your everyday life and set features so you do not have to think about certain aspects of the home. When you put it all together, convenience is among the main reasons people install automation home system features.
Save Money
It can also be excellent for saving money. Smart plugs, smart climate control, and smart lighting have the potential to decrease energy usage. Additionally, various smart appliances can be incorporated into your smart home for increased cost-effectiveness.
Control When You're Away
Another notable aspect of smart homes is the ability to control them while you're away. If you need to grant access to someone while you're at work, for example, this feature comes in handy. Your door locks can do that. Need to activate the air conditioning before arriving home? With your phone, the smart thermostat enables you to accomplish this.
Voice Controls
Moreover, it supports voice controls for various functions. You can do things such as lock the doors, turn off your lights, and change the temperature without going to a smart home control panel or using your hands.
More Awareness
Your operating system can also provide you with better awareness and more control over your home. You can make use of a device or gadgets like a tablet or smartphone to check the lighting, view camera feeds, or monitor energy consumption. With most systems, you can do all this from one convenient dashboard.
Enhanced Comfort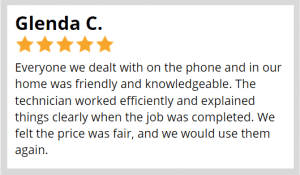 Automating things such as lights and thermostats can help increase comfort while saving money. For instance, the system could be programmed to turn the heat down once you leave your house, and then it could utilize geolocation to detect when you go home to turn the heat back up.
Safety
Home operating systems can also create a safer place. For example, you could utilize home lighting automation to switch the lights on automatically if you wake up to get a drink at night. You could also set your system up to detect your return home and turn the light on in your driveway to make parking faster.
Security
You can simplify and enhance security by combining house automation and security system technology. With devices such as motion detectors, door contacts, smart locks, and cameras working with home automation, you can do more to protect your house from burglaries and intrusion.
Features Of A Home Automation System
Before you read about the elements of a home automation system, it is very important to know about its important features. All kinds of smart homes have these basic features:
Smart Devices To Be Plugged In
These smart devices together make up home automation. These devices are necessary for everything to be possible. Different devices perform different tasks, making your home a 'smart home.' All these devices are connected to a hub and can work collectively in your smart home. These devices work through Wi-Fi connectivity, Bluetooth, or other connections.
Smart Hub
A smart hub is a focal point that has the connection of all the smart devices. This point is the control area of the devices, from which all the vital information about the functioning of your home automation reaches your smartphone. With the help of the smart hub, you can easily control all the smart devices through your smartphones, tablets, and computer. Therefore, Smart Hub is the most basic feature of home automation.
Smartphone Applications
How can you control all the home automation devices in your home from your smartphone itself? It must install the apps on your phone, which is that particular device's app. Once you install it, you can easily manage that device. The smart hub will connect your smartphone to all the smart devices and send you the required information quickly. These apps are also the basic feature of home automation.
Secure from Hacker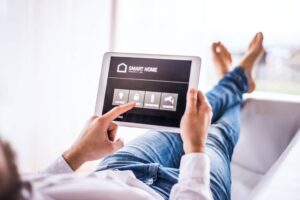 These days just about every system is hackable. Unless you're an expert in network architecture or wireless security, think twice about installing your home automation system. Having a pro like us at Custom Integrators install and program your system gives you peace of mind knowing the technology works and your home's locks and surveillance cameras are secure from hackers.
What are the Elements of a Smart Home Automation
Energy
Nearly every home consumes electricity, gas, water, and other utilities daily. Homeowners are reminded of this every month in the form of a big, fat utility bill. Unless you're made of money, you're interested in ways to lower these bills.
Smart homes should help you save money by being energy efficient. Energy efficiency products include smart lighting, learning thermostats, smart electrical outlets, power meters, etc.
Security
Smart homes should monitor things 24/7 so you do not have to. People want to be reassured about the security of their residence, which is where smarter technology can bear some of the burdens.
Security products include motion sensors, cameras, environmental sensors, locks, etc.
Convenience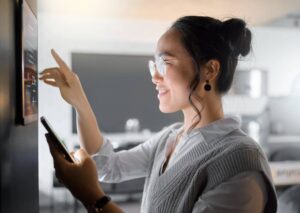 This is the part where smart homes begin to feel like the future. Energy efficiency and security are vital elements of the smart home, but many more activities must be automated and streamlined.
Smart homes should make accomplishing day-to-day tasks more convenient and enjoyable. They reduce friction throughout your day and help you get more things done.
Atmosphere
The atmosphere describes the way a place makes you feel. It is the ambiance and energy that surround you, and it is not just for hippies. It's real.
Smart homes should offer a comfortable atmosphere tailored to your preferences. They should know who's in the house. They should understand your present mood and react accordingly. Various factors, such as temperature, air quality, furniture, lighting, music, and other elements, combine to create a cozy and welcoming environment.
Entertainment
Smart technology can bring entertainment and art to you in a whole new way. Host an epic movie night and control your TV using your voice. Throw a dance party. Make every light in your house match your favorite team's colors on game day. The world is your oyster!
Contact us at Custom Integrators to get a fully integrated home automation system today. After installing a home automation system professionally, you can enjoy the benefits of living in a safer, smarter, automated home.