Home automation, like the Control 4 home automation, is a trendy topic, but how much do you know about what a smart home can do? Are you familiar with how the systems work and what they offer?
Don't panic if your answer to these questions is "no." That's what we're here for. A Control4 home control system takes the hassle out of home automation by combining everything under one umbrella with easy but powerful controls.
What is Home Automation?
Home automation is quickly becoming a buzzword in marketing for technology products.
Everything from thermostats to lights to alarm systems and even appliances is now being controlled via smartphones or computers. You've probably seen major alarm and cable service providers pushing home automation systems lately. Can you turn on a light in your home while you're at the office? Sure. How about setting your alarm from the airport when you realize you left the house in a rush and never turned it on? Of course. But a properly designed system can do so much more.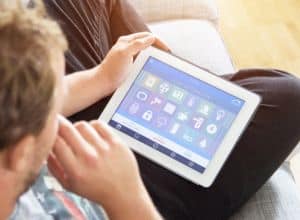 So what is home automation? Integrating all the systems in your home into one smart design works for you instead of giving you more things to do or worry about. Instead of being able to turn your lights on and off while you are away from home, how about a lighting system that knows when you are home because it can communicate with your alarm system and knows when it is armed in away mode, for instance?
A smart home would also know what time of day it is and even be able to measure how much natural light is in a room, allowing it to dim and adjust the lighting in a room based on all these factors without you having to touch a single button or open an app.
What Is Control 4 Home Automation, And How Does It Work For Home Automation?
The Control 4 home automation knits together all your smart home features, connecting them all with one simple-to-use system. By integrating everything from music, lighting control, home cinema, climate control, and security—even iPhones, iPads, and Android tablets and smartphones—a smart house by Control4 creates personalized experiences that improve your life and provide added comfort, convenience, savings, and peace of mind.
The Control 4 home automation user interface can be personalized to meet your family's specific lifestyle or entertainment needs. We can create buttons that serve as shortcuts to execute multiple control or automation events with a single finger touch.
The elegant user interface is virtually the same on every device. You can control everything from the lounge to the TV; you prefer a touchscreen in the kitchen to monitor the rest of the house. Or, with the Control4 MyHome app, you control everything from your iPad, iPhone, smartphone, or tablet, whether at home or away.
Start small by automating just the home theatre or your family room. Or go big with whole-home automation.
If you want to start with a single room and then build on from there in all directions, that is possible. Control 4 home automation is designed to grow as you go – as your life changes, so too can your home automation system. No matter what the application, the experience is unforgettable, and you will wonder how you ever lived without home automation.
What are the Ways You Can Control Your Control 4 Home Automation?
Smartphone App
One of the most convenient ways to control your home is with the Control 4 home automation app on your smartphone. Most people are already familiar with using and navigating apps on their phones, making the smartphone app a comfortable choice.
Control4's app allows you to bring your home wherever you are — turn off a light, unlock a door, or adjust the temperature from the office, the grocery store, or halfway around the world.
In-Wall And Tabletop Touchscreens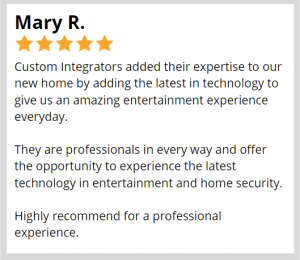 Wireless in-wall and tabletop touchscreens offer the same user interface as the smartphone app but in a larger format. The newest versions of Control4's touchscreens — the T4 line — have speedy processing capabilities, high-resolution screens, and robust microphones and speakers.
Wall-mounted touchscreens are a great option in common areas like the family room and kitchen so the entire household can easily access scenes, entertainment options, surveillance, and the smart doorbell intercom. Tabletop touchscreens can live on countertops and tables within convenient reach when you need to change something in your home.
Neeo Remote
The Neeo Remote combines hard buttons with a graphical touchscreen for flexible whole-home control. The hard buttons on the remote are most effective for frequently-used actions — like adjusting the volume on the TV or skipping songs on a playlist — while the touchscreen interface can be used to dim the lights, manage room temperature and raise or raise or lower motorized shades.
You can also program hard buttons on the remote to take you to your most-used places — one press can instantly pull up Netflix or cable on the living room TV.
Keypads
Custom-configured, wall-mounted keypads are a fantastic option for quickly controlling your most-used scenes. In the living room or media room, buttons can be programmed for "Movie Night," "Game Night," "Party," and "Quiet Time" scenes that instantly adjust the audio/video, lighting, shading, and climate settings for different activities. A keypad in the bedroom with "Good Morning" and "Good Night" scenes can activate pre-set lighting, climate, and security settings throughout the house with one button press.
Voice
Control 4 home automation has native integration with Google Assistant and Amazon Alexa for hands-free control of your home. Voice control is a convenient solution when your hands are full, or you want to avoid navigating your Control4 dashboard to find what you want. A simple voice command can activate a scene, turn on lights, play music, or lock the front door behind you.
How Can Control 4 Home Automation Help Give You A Comfortable Lifestyle?
Home Intercoms
Unlike the dated intercom systems that used a speaker, button, and closed-circuit wiring, the intercom technology offered by the Control 4 home automation system helps elevate the traditional view of an intercom to conform to the technology that most people are used to – smartphones and tablets.
With your smartphone in tow, you will always be connected to your home's intercom system – regardless of where you are. With this system, you can hear and see what is happening. The Control 4 home automation system has cameras designed to detect motion, and you can opt to receive a notification so you can view what is going on – in real time – through your PC, tablet, phone, and more.
With this in place, you can keep an eye out to ensure that your children get home safely if a package you were expecting arrives or if someone is nefarious lurking around your home.
Motorized Shades
Adjusting your window shades is simple, but there's no reason not to make it as easy as possible. With motorized shades and a Control 4 home automation system, all your shades can be controlled remotely from your phone or a touchpad, eliminating manual adjustments. If you want even more convenience and efficiency, you can use a Control 4 system to adjust your shades automatically. This feature will help you maintain the correct temperature in your home while protecting your furnishings from sun damage.
Lighting Control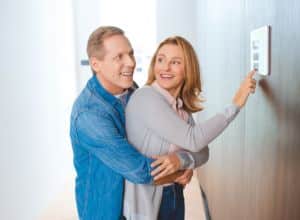 Integrating smart lighting fixtures with Control 4 home automation gives you much greater control over your home's lighting, simpler controls, and increased efficiency. Smart lighting control gives you centralized control across every room. To improve your energy efficiency, you can integrate your shades with your lights to control when the lights are on or off. Smart lighting systems use dimmers instead of basic on/off switches, which lowers your carbon footprint by reducing how much energy your fixtures use.
A Control4 system with smart lighting lets you create much more varied and distinctive lighting designs by letting you control any fixture's intensity and color temperature.
Whole Home Audio
Enjoying music in the background of everyday chores and special occasions is more fun, no matter what happens in your home. You could listen to your favorite music in more places around your home with a whole-home audio system integrated with Control 4 home automation. Your music can seamlessly follow you around the house, and you can stream different audio sources to specific rooms to keep all family members happy.
Smart Locks
With Control4 integrated smart locks, you'll never think, "Did I lock the front door?" on your way to work again. You can use your phone to view the status of any door and remotely lock it. And once you're home from work, your locks will detect your phone and unlock automatically when you reach the door.
The remote access capabilities of smart locks are also handy for package deliveries or similar situations. Once the delivery is complete, you can lock the door remotely and be confident your home is secure.
Why Should You Choose Control 4 Home Automation?
Improved Security
Integrating your home's security and surveillance systems into your home automation with Control4 will significantly enhance your peace of mind.
You can easily check your surveillance cameras from anywhere using your smartphone, tablet, computer, or other smart devices. Never wonder what is happening at your home again; you will always have access! And you can easily control your security system, including arming/disarming it remotely. Whether you are simply comfortable in bed and want to avoid getting up to arm your system, or you are out of the country, you can control your system easily from anywhere.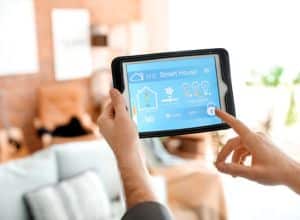 Enhanced Energy Efficiency
Your home's climate control can easily be implemented into your home automation with Control4. Your thermostat can be adjusted remotely, so you do not have to waste energy heating or cooling a home when nobody is home. This will help improve your energy efficiency dramatically. Further, you can control lighting and window shades to optimize your home's energy efficiency.
One Touch Controls
Whether you want to control a single operation (turn the lights on) or you want a series of operations to happen (lights dim, television turns on, window shades close, and the movie starts to play), multiple operations can be controlled at the touch of one single button with Control 4 home automation!
Reduce Clutter
Say goodbye to multiple remotes and clutter throughout your home. Control 4 home automation integrates all controls into one easy-to-use location so that you can declutter without sacrificing convenience or control.
Are you ready to experience the efficiency and convenience of Control 4 home automation? Call us today!